Finnish Dressage News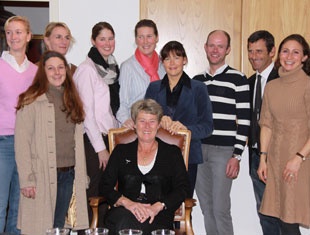 The WBFSH (World Breeding Federation for Sport Horses) had their annual General Assembly in Copenhagen and Flyinge on 3-5 November 20009. A special gala evening was hosted at Flyinge on 4 November and Kyra Kyrklund was asked to put together one number for the show.
Kyrklund was the head trainer at Flyinge from 1991 till 1998 before she moved to England. "This was a perfect chance to show a part of the most important work Richard and I did when we were working at Flyinge," she explained. "During these years we had 13 young dressage riders training and working at Flyinge and out of them 9 are riding Grand Prix at CDI level. Seven of them are in their national teams at European or World Championships and five of them have competed at the Olympics."
Kyra first asked the team riders if they could come to the Gala evening to perform and much to her surprise they all said yes. "It was my pleasure to present a group of very skilful young Grand Prix riders. They had all come to Flyinge when they were between 18 and 20 years old and they stayed between 1 and 5 years."
From Germany British Emma Hindle brought her own Grand Prix trained licensed breeding stallion Chequille (by Caretano) and Danish Nathalie zu Sayn Wittgenstein rode her home bred Grand Prix gelding Master Mind (by Master). Dutch Imke Schellekens-Bartels borrowed Mia von Essen's international small tour winner 10-year old gelding Ferdi (by Federweiser) and Ettan Ehrnrooth borrowed Anna Nilsson's 10-year old Go Dutch (by Gracieux). From Sweden Mattias Jansson rode Nilsson's 8-year old Swedish warmblood gelding Don Dorn (by Don Schufro) while Minna Telde saddled her own 9-year old Danish warmblood mare Larina-Høm (by Solos-Landtinus).
They all did a very nice show number showing all the movements from the Grand Prix. All together have won ten medals so far. "I am sure you can understand that I was like a proud mother hen looking at them," Kyra acknowledged.
The evening before the show the entire group met for dinner at The Butler Service. Richard came from the UK and some other of the old "Flyinge-gang" (Ebba & Mia von Essen and Pernilla Högfelt-André) joined the party. "The only moment when it actually was silent during the evening, was when we were eating the wonderful food - this group had A LOT to talk about," Kyra reminisced.
Related Links 
Rollkur Topic of Discussion at FEI General Assembly
Kyrklund Thrilled to be Third, Schellekens Slots in Fourth at 2008 World Cup Finals
A Walk on the Premises of Minna Telde
Kyra Kyrklund's Max Retired from Competition
Don Charly Sold to Minna Telde