2009 CDI Biarritz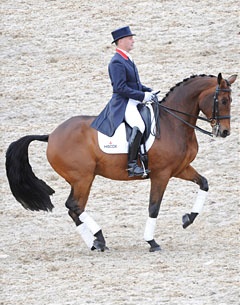 The forthcoming CDI in Biarritz has attracted a host of up and coming entries. At the top of the bill is Richard Davison's star in the making, Hiscox Artemis. The 10 year old gelding has been in winning form all season. Since winning the Windsor European test-event in May he has stormed home in every CDI class since, dominating the CDI at Hartpury and the Kampmann classes at Hickstead CDI 5 star. In their last competitive outing at Hickstead, the pair scored more than 72% in the young horse grand prix.
The 10-year old gelding has been with Davison since he was purchased from Canadian international Evi Strasser two years ago. His talent for piaffe, passage and pirouttes is clear for all to see and regularly attracts 9s from the judges. But Davison is in no rush with his horse. The European medallist says of his horse: "He is the most naturally talented grand prix horse I've ever had - he is simply a joy to ride. He has no weaknesses and has proved he is capable of scoring 8s and 9s across the board."
Hiscox Artemis' joint owners are the Countess of Derby, famous for her family's connection with the classic horse race, and John Dodd. Hiscox, the specialist insurer, has committed to backing Davison and Hiscox Artemis for the next three years. Responsible for insuring some of the most highly valued sport and race horses around the globe, Hiscox also specialises in insurance for owners of high value homes as well as professionals and business customers.
Related Links
Hiscox Insurance
Richard Davison Gets Elton John Freestyle for Artemis
Davison and Dujardin Shine at 2009 Royal Windsor Horse Show
Evi Strasser's Foto Tyme Sold to Be Richard Davison's New Ride