2009 Belgian Dressage Championships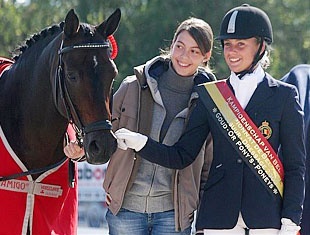 Pony rider Noemie Goris, junior Mieke Mommen, young rider Brecht d'Hoore and Grand Prix rider Jeroen Devroe have won the 2009 Belgian Dressage Championships hosted at Japanese Reiko Newton's Domaine Mon Souhait in Braine L'Alleud near Bruxelles, Belgium on September 25-27, 2009.
The pony riders took a difficult start on Friday morning as the organization of the show was not up to standard with a very loud sound system and a lot of commotion near the show ring spooking the ponies and their young riders. Several top ponies, therefore, performed below par on the first day but recovered on Saturday and Sunday.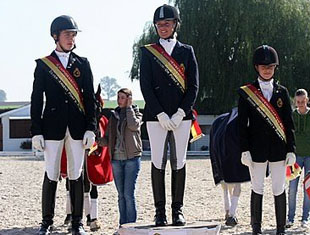 Aboard the German Reitpony gelding Alexandre Dumas 15-year old Noemie Goris captured the gold medal by acing the individual test and kur to music with plus 70% marks. The silver went to Geoffrey de Roy on his 7-year old chestnut Dutch bred pony Ivano. This combination won on day 1 and finished fourth twice the consecutive days, but staying closed in scores to the top ranked rider. The bronze medal went to newcomer Leyla Larsson who took over the ride on Tonkawa SD from Jorinde Verwimp, who grew too tall for her pony. Larsson had three very consistent rides on Verwimp's grey stallion.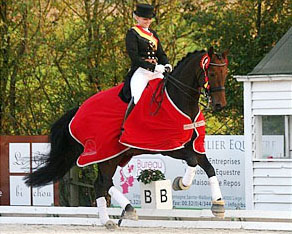 In the junior riders division there was much movement in the rankings throughout the three days of competition. Only the top rider and gold medal winner, Mieke Mommen on Rocky (by Rockwell) was a consistent performer and scored huge marks in the seventies, with even a 79,000% for her Kur to Music. Back in the saddle of the chestnut gelding Vento 15-year old Jorinde Verwimp claimed the silver after two second places and one fifth in the Kur. The tall Verwimp has said her goodbyes to the pony division and will be competing in the junior riders division in 2010. Emma de Brabandere and the Hanoverian bred Hohenstaufen (by Hohenstein x Langata Express xx) finished in bronze medal position.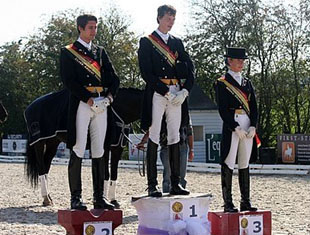 It's been a big year for Young Rider Brecht d'Hoore, who made his international break through this show season. Aboard his liver chestnu Dutch bred gelding Sital (by Metall), D'Hoore topped the leader board on all three days of the championships. Trained by his father Paul d'Hoore and occasionally clinicing with Hans-Peter Minderhoud, D'Hoore is improving with each show. Thibault Vandenberge and his chunky bay gelding Decadent (by Davignon) chased D'Hoore to the finish but had to settle for silver. On his heels were Magali Bastaens and her black gelding Topaz (by Kimberly x Samber) who finished third overall and got bronze.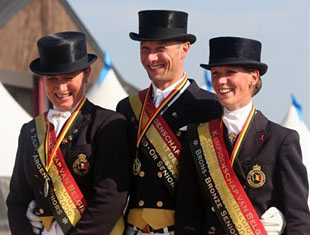 At Grand Prix level, last year's champions Stefan van Ingelgem and Bart van Malderen's BWP stallion Withney van 't Genthof (by Ferro) were not there to defend their title, so Jeroen Devroe was able to cruise to the gold medal with his 9-year old Belgian bred gelding Apollo van het Vijverhof (by Welt Hit II). Especially in the Grand Prix and Special, Devroe was able to create a huge gap with second placed silver medal winning Claudia Fassaert on the KWPN branded Ostra (by Indoctro). The former young rider Fanny Verliefden and her Oldenburg stallion Rubel (by Rubinstein) grabbed bronze.
Photos courtesy: Karin Gillain
Results
Pony Riders - Round 1 - Team Championship Test
1. Geoffrey de Roy - Ivano - 68,278
2. Leyla Larsson - Tonkawa SD - 66,444
3. Chloe Vicini - Joly's Torento - 65,944
4. Charlotte Defalque - Milkshake - 65,778
5. Alexa Fairchild - Stukhuster Ricardo Go fo Gold - 65,056
6. Noemie Goris - Alexandre Dumas - 64,444
7. Alexa Fairchild - Neervelds Blamoer - 64,389
7. Carole Schepens - Tupak - 64,389
9. Charlotte van den Eynde - White Dancr - 63,944
10. Emilie van Riet - Be My Boy - 62,556
11. Laura Frijters - Perle Fine - 60,944
12. Soraya Brison - Djafar - 60,000
13. Shelly Vischschoonmaker - Quinty - 59,500
14. Sarah Luck - Kwibbel - 58,556
Pony Riders - Round 2 - Individual Test
1. Noemie Goris - Alexandre Dumas - 70,158
2. Alexa Fairchild - Neervelds Blamoer - 68,368
3. Leyla Larsson - Tonkawa SD - 68,263
4. Geoffrey de Roy - Ivano - 67,684
5. Chloe Vicini - Joly's Torento - 67,158
5. Alexa Fairchild - Stukhurst Ricardo Go for Gold - 67,158
7. Charlotte Defalque - Milkshake - 66,474
8. Emilie van Riet - Be My Boy - 63,789
9. Charlotte van den Eynde - White Dancer - 61,158
9. Carole Schepens - Tupak - 61,158
11. Laura Frijters - Perle Fine - 60,789
12. Soraya Brison - Djafer - 60,526
13. Sarah Luck - Kwibbel - 60,263
14. Shelly Vischschoonmaker - Quinty - 58,737
Pony Riders - Round 3 - Kur to Music
1. Noemie Goris - Alexandre Dumas - 74,800
2. Alexa Fairchild - Neervelds Blamoer - 72,200
3. Leyla Larsson - Tonkawa SD - 71,950
4. Geoffrey de Roy - Ivano - 71,200
5. Alexa Fairchild - Stukhurst Ricardo Go for Gold - 71,150
6. Charlotte Defalque - Milkshake - 69,850
7. Chloe Vicini - Joly's Torento - 68,250
8. Emilie van Riet - Be My Boy - 67,050
9. Laura Frijters - Perle Fine - 66,550
10. Charlotte Van den Eynde - White Dancer - 63,600
11. Soraya Brison - Djafar - 62,550
12. Carole Schepens - Tupak - 62,150
13. Sarah Luck - Kwibbel - 61,000
14. Shelly Vischschoonmaker - Quinty - 60,800
2009 Belgian Pony Riders Championships
1. Noemie Goris - Alexandre Dumas
2. Geoffrey de Roy - Ivano
3. Leyla Larsson - Tonkawa SD
Junior Riders - Round 1 - Team Championship Test
1. Mieke Mommen - Rocky - 71,838
2. Jorinde Verwimp - Vento - 67,892
3. Emma De Brabandere - Hohenstaufen - 67,459
4. Saidja Brison - Moliere - 67,243
5. Laurence Roos - Ambaro Saturnus - 66,595
6. Valerie Vandekeybus - Rivaldy - 64,541
7. Charlotte Verhesen - Tresor van het Lisperhof - 64,108
7. Eline De Coninck - Don Warohn - 64,108
9. Tahnee Waelkens - Sandiegobese - 63,946
10. Lawrence Breugelmans - Uniek - 63,730
11. Manon Hoet - Don Archipel - 63,568
12. Annabel van Laere - Simply Red - 61,784
13. Annelies Crul - Justin - 61,514
14. Kirsten Adriaenssens - Roycroft - 59,405
15. Laurent Indekeu - Uzzi - 58,919
16. Eva de Roost - Rilyano - 58,595
Junior Riders - Round 2 - Individual Test
1. Mieke Mommen - Rocky - 72,316
2. Tahnee Waelkens - Sandiegobese - 68,053
2. Jorinde Verwimp - Vento - 68,053
4. Saidja Brison - Moliere - 67,789
5. Laurence Roos - Ambaro Saturnus - 67,421
6. Eline De Coninck - Don Warohn - 67,211
7. Manon Hoet - Don Archipel - 65,211
8. Emma De Brabandere - Hohenstaufen - 65,158
9. Valerie Vandekeybus - Rivaldy - 64,053
10. Laurent Indekeu - Uzzi - 63,895
11. Annelies Crul - Justin - 63,158
12. Annabel van Laere - Simply Red - 62,632
13. Charlotte Verhesen - Tresor van het Lisperhof - 61,474
14. Kirsten Adriaenssens - Roycroft - 61,421
15. Eva de Roost - Rilyano - 60,158
16. Lawrence Breugelmans - Uniek - 57,947
Junior Riders - Round 3 - Kur to Music
1. Mieke Mommen - Rocky - 79,000
2. Eline De Coninck - Don Warohn - 71,550
3. Emma De Brabandere - Hohenstaufen - 70,700
4. Tahnee Waelkens - Sandiegobese - 69,900
5. Jorinde Verwimp - Vento - 68,400
6. Saidja Brison - Moliere - 68,200
7. Laurence Roos - Ambaro Saturnus - 67,850
7. Manon Hoet - Don Archipel - 67,850
9. Lawrence Breugelmans - Uniek - 66,500
10. Valerie Vandekeybus - Rivaldy - 66,350
11. Charlotte Verhesen - Tresor van het Lisperhof - 65,300
12. Kirsten Adriaenssens - Roycroft - 64,800
13. Annabel van Laere - Simply Red - 63,900
14. Eva de Roost - Rilyano - 62,350
15. Annelies Crul - Justin - 60,250
2009 Belgian Junior Riders Championships
1. Mieke Mommen - Rocky
2. Jorinde Verwimp - Vento
3. Emma De Brabandere - Hohenstaufen
Young Riders - Round 1 - Team Championship Test
1. Brecht d'Hoore - Sital - 69,474
2. Thibault Vandenberghe - Decadent - 67,526
3. Magali Bastaens - Topaz - 67,158
4. Anouck Hoet - Wild Diamond - 65,263
5. Melodie Michaux - Warhol van de Kwaplas - 63,842
6. Caroline Ulrici - Latina - 60,632
7. Monica Bogaert - Lucas - 60,316
Young Riders - Round 2 - Individual Test
1. Brecht d'Hoore - Sital - 66,684
2. Magali Bastaens - Topaz - 66,632
3. Thibault Vandenberghe - Decadent - 66,474
4. Anouck Hoet - Wild Diamond - 66,105
5. Monica Bogaert - Lucas - 64,684
6. Melodie Michaux - Warhol van de Kwaplas - 63,684
7. Caroline Ulrici - Latina - 62,526
Young Riders - Round 3 - Kur to Music
1. Brecht d'Hoore - Sital - 72,600
2. Thibault Vandenberghe - Decadent - 71,850
3. Magali Bastaens - Topaz - 70,200
4. Anouck Hoet - Wild Diamond - 68,800
5. Caroline Ulrici - Latina - 67,200
6. Melodie Michaux - Warhol van de Kwaplas - 64,050
7. Monica Bogaert - Lucas - 57,450
2009 Belgian Young Riders Championships
1. Brecht D'Hoore - Sital
2. Thibault Vandenberghe - Decadent
3. Magali Bastaens - Topaz
Senior Riders - Round 1 - Grand Prix
1. Jeroen Devroe - Apollo van het Vijverhof - 69,894
2. Claudia Fassaert - Ostra - 65,691
3. Claudia Fassaert - Quinten LM - 63,564
4. Dominique Mohimont - Navarro - 63,511
5. Fanny Verliefden - Rubel - 62,979
6. Michel Toussaint - Senna van Neerhoven - 61,383
7. Stephane Morai - Saygon van Mansborre - 60,691
8. Virginie Deltour - Galakahn - 52,979
Senior Riders - Round 2 - Grand Prix Special
1. Jeroen Devroe - Apollo van het Vijverhof - 70,792
2. Claudia Fassaert - Ostra - 65,000
3. Dominique Mohimont - Navarro - 64,167
4. Fanny Verliefden - Rubel - 63,083
5. Stephane Morai - Saygon van Mansborre - 62,083
6. Michel Toussaint - Senna van Neerhoven - 61,417
7. Claudia Fassaert - Quinten LM - 59,750
8. Virginie Deltour - Galakahn - 56,833
Senior Riders - Round 3 - Kur to Music
1. Jeroen Devroe - Apollo van het Vijverhof - 73,300
2. Claudia Fassaert - Ostra - 71,700
3. Fanny Verliefden - Rubel - 69,100
4. Stephane Morai - Saygon van Mansborre - 62,400
5. Virginie Deltour - Galakahn - 62,100
6. Michel Toussaint - Senna van Neerhoven - 57,200
2009 Belgian Senior Riders Championships
1. Jeroen Devoe - Apollo van het Vijverhof
2. Claudia Fassaert - Ostra
3. Fanny Verliefden - Rubel
Related Links
Roberto Cavalli, Zunora, First Junior Win 2009 Belgian Young Horse Championships
Stefan van Ingelgem, 2008 Belgian Dressage Champion
Van Olst, Mommen, Vandenberghe Win 2008 Belgian Youth Riders Championships
White Ribbon Campaign at the 2005 Belgian Dressage Championships