2009 Young Riders World Cup Finals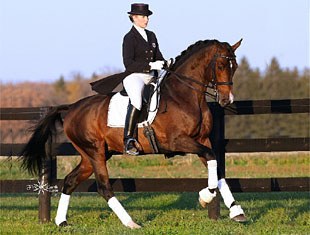 Triple American Young Rider Champion Kassandra Barteau has clinched the U.S. berth at the 2009 Young Riders World Cup Finals held at the CDI-W Frankfurt in December 2009. Barteau led the U.S ranking going into the final qualification event at Dressage at Devon and maintained her lead ahead of Caroline Roffman.
In the case of the Young Rider World Cup, U.S. riders qualify with their two best scores and not their overall average. Despite the fact that Roffman's overall average was higher than Barteau's, Caroline needed at least a 73.9% to pull ahead of Barteau's best.
Aboard Ginna Frantz' 10-year old Holsteiner stallion GP Raymeister (by Rantares out of Miss Nickel Annie), 21-year old Barteau came into Devon as the highest ranked Young Rider in the country competing in her last year at that level. Her average score was at 73.375%, while second placed Roffman and her 15-year old Hanoverian Bulgari (by Baryshnikov x Espri) were at 72.9%.
The determining contest was 2009 Dressage at Devon, where the New York and Florida based 21-year old Roffman had her last opportunity to beat Barteau's score. Rofman won the Kur to Music with 71.800%, but it was not enough to outscore Barteau for Frankfurt.
Barteau has won the American Young Rider Championships three years in a row (2007, 2008 and 2009). Her trip to World Cup Finals will be an opportunity all expenses paid by the Frankfurt organization.
"I am very honored and excited to have this opportunity to represent the United States in the Young Rider World Cup," said Barteau. "I plan on putting my best efforts into preparing myself and 'Ray' for our first international experience. Thank you so much to everyone who has helped make this long-time dream come true."
Roffman can not apply for a wild card as the application of one may only be requested by national federations which have no riders qualified for the event.
Photo couresty: KYB Dressage
Related Links
Coverage of the 2008 Young Riders World Cup Finals
Kassandra Barteau Wins Kur to Music Gold Medal at 2009 NAYRC