2009 British Dressage Championships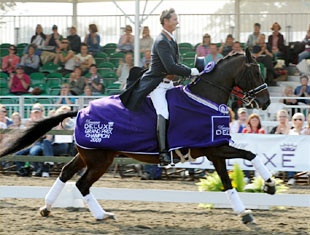 The 2009 British Dressage Championships, Warwickshire, 17-20 Sept promised and delivered the best of British dressage at the finale of the summer season. Following swiftly on the heels of unprecedented success at the European Championships – a team silver and individual bronze — the National Championships saw its own share of records set with high flying team member Carl Hester clinching his 6th National Championship and 51st national title.
The Grand Prix Freestyle saw a hotly contested battle with five riders going 70% or better. Hester once again snatched the top spot for 74.65% to his Tom Jones medley. A delighted Carl commented;
"This has been the best year I've had for twenty years," said Carl. "Windsor took me back to the thrill of riding on my first team and now, to win more than 50 national titles is amazing. It also makes me realise how many horses I've ridden over the years!" joked Carl.
"I had good artistic marks at Windsor so I was confident that my programme could be good enough to win today but the technicality had to be right too", explained Carl. "We did have a mistake in the two time changes so I was then careful not to over ride in trying to put the score up. From then on though, the rest of the test was technically really good."
Last year's champs Maria Eilberg and Two Sox were forced to settle for second with a PB of 73.90% and it was a well deserved third for Nicola Jourdain and St. Swithens who scored 72.05%. 
Hester also won the Grand Prix with an impressive 71.36%. "Liebling had a two week holiday after the Europeans and has come back really well for today," said Carl. "He's now very confident in these movements and was extremely relaxed today. He's maybe not the most extravagant horse but he's established and so easy to collect. We did have a mistake in the two tempi-changes but other than that, the test was clean and very efficient."
The combined scores from the Grand Prix and the Freestyle saw Carl Hester lift the 2009 British Dressage Championship for a record sixth time.
Source: British Dressage
Photo copyrighted: Kevin Sparrow
Results
Grand Prix
1. Hester, Carl - Liebling II - 71.36%
2. Eilberg, Maria - Two Sox - 69.49%
3. Jourdain, Nicola - St Swithens - 65.87%
4. Andersen, Henriette - Louis D'Or - 65.83%
5. Harvey, Judy - Fitzcerraldo - 65.73%
6. McGivern, Nicola - Active Walero - 64.94%
7. Lister, Jodie - Nicky - 64.60%
8. Elmslie, Sarah-Jane - Wellington Masterplan - 64.13%
9. Green, Gemma - Showtime - 64.13%
10. McGivern, Nicola - Active Private Dancer - 63.53%
11. Hutton, Charlie - Aljano III - 62.64%
12. Macdonald Hall, Anni - Rosso - 62.47%
13. Fisher, Pippa - Stenkjers Nadonna - 62.04%
14. Macdonald Hall, Anni - Donner Rhapsody - 58.34%
15. Lavendera, Suzanne - Keystone Walentino - 58.30%
Grand Prix Kur to Music
1. Hester, Carl - Liebling II - 74.65%
2. Eilberg, Maria - Two Sox - 73.90%
3. Jourdain, Nicola - St Swithens - 72.05%
4. Croxford, Stephanie - Mr President - 71.00%
5. Andersen, Henrietta - Louis D'Or - 70.10%
6. Harvey, Judy - Fitzcerraldo - 69.05%
7. McGivern, Nicola - Active Walero - 69.00%
8. Lister, Jodie - Nicky - 69.00%
9. Elmslie, Sarah-Jane - Wellington Masterplan - 68.30%
10. Mcgivern, Nicola - Active Private Dancer - 64.84%
11. Hutton, Charlie - Aljano III - 61.90%
Related Links
Tons of Titles Won at the 2009 British Dressage Championships
Maria Eilberg, 2008 British Dressage Champion
Spencer Wilton and Dolendo, 2007 British Dressage Champions
Sandy Phillips and Lara, 2006 British Grand Prix Dressage Champions
Hughes and Gould In Command at 2006 British Winter Championships
Photo Report - 2005 British Dressage Championships
Scores: 2004 British Dressage Championships
Scores: 2003 British Dressage Championships
Scores: 2002 British Dressage Championships
Nicky Barrett Claims Her First British Grand Prix Champion's Title