2009 British Dressage Championships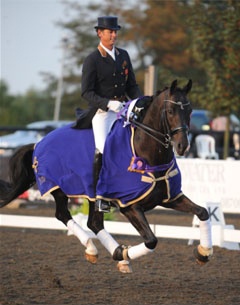 The Dressage Deluxe National Dressage Championships at Stoneleigh Park, Warwickshire kicked off on Thursday September 17 crowning the first four of seventeen (!) national titles up for grabs. Straight off the back of their success at the Windsor Europeans, team silver medallists Carl Hester and Maria Eilberg were on impressive form, each clinching a title and setting the scene for an exciting four days of competition.
Photo copyrighted: Kevin Sparrow
NFU Mutual Intermediaire II Amy Stovold and MacBrian 67.74%
"I saw my Mum cry and that made me cry." said Amy, talking about her reaction to her win. "MacBrian was great today. He felt very strong and a lot more confident than he has been. He can be a little tense but I've been having lots of help from my trainer Richard White and can feel a real improvement. I've got a great team around me. I owe a lot to Julia and Nick Jacobs, who co-own him with my Mum and also my groom Claire Young - I couldn't do it without them."
Jeffries Saddlery Prix St Georges Champion Carl Hester and Uthopia 72.74%
"That was my 47th national title - I'm trying to make it 50 this weekend!" said a delighted Carl. Uthopia is only eight years old so he needs a little bit of help from me. This was only his fourth PSG so that really shows his rideability and temperament. He's so elastic and natural and a pleasure to ride I aim to do Grand Prix with him on the Sunshine Tour next year. He can do everything and now just needs the arena experience. His owner Sasha Stewart is coming to watch him in the Intermediaire I on Saturday so I hope he continues his form for then!"
Hester and Uthopia Take Intermediaire I Title
Friday of the Dressage Deluxe National Dressage Championships, Warwickshire, saw Carl Hester grow ever closer to the 50 championships benchmark. Win number 48 today, and his second of the championships so far, Carl and Uthopia flew in on an impressive 72.74% to take the Intermediare I title.
"Uthopia was really great today. He was more relaxed and rideable than yesterday," said Carl. "It's a more difficult test and he coped really well. His concentration in the surroundings and big atmosphere is really great - quite unusual for a horse of his age, especially a stallion. He's a very exciting horse - so elastic and off the floor which attracts the marks." Carl and Uthopia will contest the Bates Intermediaire I Freestyle on Saturday afternoon.
Cartwright Wins Elementary Open Championship

It was also a good day for Carl's former stable jockey Lucy Cartwright who rode the 17.1hh gelding Chagall to take the Elementary Open Championship on a massive 73.29% as well as the Novice Open with 71.43%.
"He's a gentle giant," said Lucy, who rides the 6 year old gelding for owners Isobel Wessels and Bridget Powell. "As he's a very big horse, he's a slow developer but he has no weaknesses. He has great ability combined with a wonderful temperament – even during the arena walk, I rode him on the buckle, he's that sensible" The talented Chagall, who was fifth in the Shearwater Young Dressage Horse Championship (ridden by Carl Hester) will now be aimed at the 2010 winter elementary championship as the next step of his career.
Mike Jones, Medium Restricted Champion
The Martin Collins Advanced Medium Restricted Champion is Mike Jones and Two Mills Playboy, 67.82% "I bought him as a three year old and liked him so much I decided to keep him," said Mike who buys and sells competition horses. "He's so easy to train and nothing ever fazes him. He's now nine and I've never known him to put his ears back – he's such an easy horse. He's ready for Prix St Georges now and does all the Grand Prix work at home which is my long term aim with him."
Biotal Medium Open Champion Maria Eilberg and Woodlander Rockstar 72.27%
"He was really good today – the strongest he's ever felt", said Maria. "We've been doing PSG work at home and I'm finding that now, I need to occupy him more at shows, doing some more difficult movements to get him more submissive and 'through'. His canter has always been good and now his collection has improved a lot - now it's a case of being precise and riding extra expression." He's now combining stud duties and competition which he's able to do really well. He doesn't particularly react to mares at shows - he might look at them but that's it."I'm hoping to do the Sunshine Tour with him again - he was so consistent there earlier this year."
Hester Wins 50th National Title
On Saturday Carl Hester took his 50th National title here today after winning the Grand Prix and Inter I Freestyle. The benchmark was always within Carl's grasp with his first win of the competition on Thursday in the Prix St. George making 47 titles. His 76.10% in the Intermediaire I Freestyle sealed the deal in impressive style. 
"I often have a drama with my music and today was no exception!" said Carl. "I discovered at 1.30pm, four and half hours before my test, that my music CD was lost. I had to ring home and get someone to run up a CD - it was for a freestyle programme I last rode eight years ago!" 

Drama aside, the programme, set to a Simon and Garfunkel medley was head and shoulders above the field with a score of 76.10%. "He was so full of expression and he came out on the third day still full of running – a great championship horse quality."
BETA Preliminary Charlotte Andrews and Welcome O, 71.82%
"I was delighted with him today," said Charlotte who rides Welcome O, and other young horses for owner, Julie Hugo. "He's six years old and was very immature when Julie first bought him a year ago but he has a great attitude to work and took everything in his stride." 

Charlotte, a recently qualified veterinary surgeon, has combined her studies with riding and competing. "She could frequently be found with her head in a book in the back of the lorry," quipped Julie. "Charlotte rides all my young horses. She's a very tactful rider, has plenty of 'stickability' and is used to riding powerful horses – she does a fantastic job of starting them off."
Martin Collins Advanced Medium Open Michael Eilberg and Woodlander Dornroschen, 72.26%
"I'm so pleased with her and it's always good to ride a test like that at the Nationals," said a delighted Michael following his win. "In the collecting ring she was good and I was hoping we could pull it off in the arena. She has great star quality and presence but is still really level in her mind – she really is a super mare."
"In the medium open, she was a little fresh but today she was fantastic. The more advanced the test, the more she comes into her own. On Tuesday, I'm having an operation on my hip so I'll be out of action for three months. As soon as I'm back riding, we'll continue training and will maybe do the Sunshine Tour in the spring. My sister Maria has competed there the last couple of years and we've found it's a great experience for the horses."
Beltoni Wins Shearwater Potential International Young Dressage Horse Championships
Other action on the final day of competition included the Shearwater Potential International Young Dressage Horse Championships. Footballer John Terry and wife Tony celebrated the success of their horse - five year old Beltoni - ridden by Vicky Thompson-Winfield in the overall championship. Tim Sillevis and four yr old Romanno Ruinart were runners up.
Anita Gibson and Wiseguy V topped The Novice Restricted Championship on 69.08% and Alex Hardwick and seven year old Rotspon's Rockin took the Medium Restricted on 68.80%.
Source: British Dressage
Related Links 
Maria Eilberg, 2008 British Dressage Champion
Spencer Wilton and Dolendo, 2007 British Dressage Champions
Sandy Phillips and Lara, 2006 British Grand Prix Dressage Champions
Hughes and Gould In Command at 2006 British Winter Championships
Photo Report - 2005 British Dressage Championships
Scores: 2004 British Dressage Championships
Scores: 2003 British Dressage Championships
Scores: 2002 British Dressage Championships
Nicky Barrett Claims Her First British Grand Prix Champion's Title