Finnish Dressage News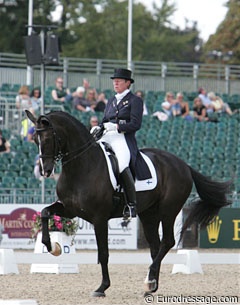 Kyra Kyrklund has retired her 14-year old Swedish warmblood gelding Max. Following 7th individual place at the 2009 European Championships in Windsor, Max's owners Kyra Kyrklund and Yvette Conn have announced his retirement from international competition.
"I like happy endings," said Kyra. "Max has been one of my most consistent and honest horses. He has been competing at top level international Grand Prix for the past six years. He is a true gentleman who always tries his best. I felt this was the right moment and that is why we chose to reuse our favourite freestyle music Cabaret for his farewell. It was a big decision and in my heart I felt sad that he was entering the international arena for the last time but I knew it is the right thing to do. He has given us all so much more than we ever expected or hoped for. I consider Max to be a perfect ambassador for dressage. He loves an audience so I now look forward to take him to lecture demos and gala performances."
Owner Yvette Conn describes Max's international dressage career as a wonderful journey. "I have watched Max in his daily training since he was four years old. Together with Kyra and Richard I have had so many wonderful experiences all over the world. I have reached heights in dressage that I never dreamt possible as an owner. Two World Cup Finals, three European Championships, the World Equestrian Games and the Olympics – it doesn't get better than that. I agree with Kyra that it is the right time for Max to take a new path in his life."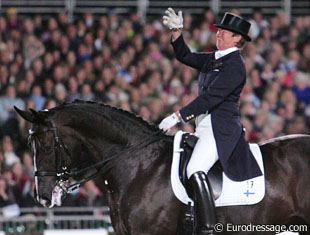 Kyra will continue to ride Max at home and he may also be a mentor for some of her students. Kyra's career at the top of international competitive dressage spans some 25 years. She has successfully trained and competed numerous horses in international Grand Prix dressage. "I am not planning to retire myself quite yet," says Kyra, "as I have a few interesting Grand Prix prospects at home"
Max is bred by Britta Stina Eriksson in Sweden and is by Master x Alpenfurst. He started in thirty-five international shows and was placed in thirty-three of them.
Related Links
Kyrklund Thrilled to be Third at 2008 World Cup Finals
Standing Ovation for Kyrklund at 2008 CDI-W Goteborg 
Kyrklund Rises to the Occasion at 2006 CDIO Aachen