2009 CDN Munster - Turnier der Sieger - 20 - 23 August 2009
2009 Medien Cup Finals - Preliminary Round
1. Donnelly - Schmidt, Hubertus - 72.950 %
2. Dablino - Balkenhol, Anabel - 72.500 %
3. Le Mont d'Or - Plönzke, Anja - 69.950 %
4. Rom - Koppelmann, Carola - 69.850 %
5. Tristan - Schmidt, Hubertus - 68.300 %
6. Diego - Engelen, Marion - 66.450 %
7. Wakana - Salzgeber, Ulla - 64.200 %
8. Denaro- Bettenworth, Katrin - 63.850 %
9. Laureus - Borggreve, Peter - 63.100 %
10. Django Edwards - Bettenworth, Katrin - 61.450 %
11. Filmstar - Bauer, Hans-Peter - 60.300 %
2009 Medien Cup Finals - Finals
1. Dablino - Balkenhol, Anabel - 74.293 %
2. Damon Hill NRW - Klimke, Ingrid - 70.244 %
3. Wakana - Salzgeber, Ulla - 69.561 %
4. Donnelly - Schmidt, Hubertus - 69.268 %
5. Tristan - Schmidt, Hubertus - 68.049 %
6. Le Mont d'Or - Plönzke, Anja - 68.000 %
7. Diego - Engelen, Marion - 65.756 %
8. Rom - Koppelmann, Carola - 63.659 %
9. Denaro - Bettenworth, Katrin - 63.024 %
10. Laureus - Borggreve, Peter - 61.415 %
11. Filmstar - Bauer, Hans-Peter - 59.415 %
12. Django Edwards - Bettenworth, Katrin- 57.707 %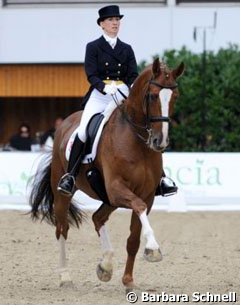 Anabel Balkenhol and Klaus Balkenhol's 9-year old chestnut gelding Dablino (by De Niro) won the 2009 Medien Cup Finals with a huge score of 74.293%, beating Ingrid Klimke on the Westfalian branded stallion Damon Hill NRW (by Donnerhall). "I know he has extraordinary qualities, but now his nerves still have to settle down. And that happened," said Anabel Balkenhol, daughter of Olympic medallist Klaus Balkenhol. Anabel took over the ride on Dablino from Holga Finken three years ago. By winning the Medien Cup Finals, she also won a Mini Cooper convertible. "It's a dream car and it will definitely stay in the family," she said.
Twelve combinations qualified for the finals through four selection trials. The Finals in Munster showed a high quality field of competitors. "We've seen really nice horses here and that is what is most important for Germany at the moment," said Ulla Salzgeber, who finished third with her mare Wakana (by Wolkentanz II).
Ingrid Klimke and Damon Hill NRW landed a second place with 70,244%. They were the only pair who did not perform in the preliminary round. "To really motivate him, I prefered to hack him outside and had him canter in the hills one more time," Klimke explained.
Grand Prix
1. Hinnerk TSF - Hubertus Schmidt - 70.340%
2. Wellington - Alexandra Simons-de Ridder - 68.638%
3. Insterburg TSF - Carola Koppelmann - 68.553%
4. Weltino - Ludwig Zierer - 67.745%
5. Fantomas - Christoph Koschel - 67.574%
6. Charatan W - Brigitte Wittig - 66.851%
7. Raffaldo - Nadine Capellmann - 65.745%
8. Lamarc WRT - Sabine Becker - 65.191%
9. Forum Zwei - Bianca Kasselmann - 64.553%
10. Qui Vincit Dynamis - Gina Capellmann-Lütkemeier - 64.468%
11. Rubins Royal - Anabel Balkenhol - 64.255%
12. Rosselini G - Andrea Timpe - 59.489%
13. Companero - Katrin Bettenworth - 58.894%
Hubertus Schmidt and the Trakehner bred Hinnerk TSF won the opening class, the Grand Prix, at the German national competition "Turnier der Sieger" in Munster, Germany. Schmidt recently took over the ride on Hinnerk from Carola Koppelmann, who had trained the chestnut from novice to Grand Prix level for his owner Holger Schmezer. Schmidt won the Grand Prix with 70.34%.
"I've been riding him for five weeks and we had a cold start at the CDI Falsterbo," Schmidt said. "I never had such an easy Grand Prix horse and he is very well trained by Carola Koppelmann. It was really easy to take over the ride."
Hubertus decided not to put his number one Grand Prix horse, Donnelly, up for German team selection for the 2009 European Dressage Championships in Windsor, Great Britain. "There is a lot of pressure but it's not fair to take an 8-year old and compete him against the top fifteen of the world. We'll do the Medien Cup tomorrow."
Grand Prix Special
1. Insterburg TSF - Koppelmann, Carola - 71.167 %
2. Raffaldo - Capellmann, Nadine - 67.792 %
3. Lamarc WRT - Becker, Sabine - 65.833 %
4. Wellington - Simons-de Ridder, Alexandra - 63.708 %
5. Qui Vincit Dynamis - Capellmann-Lütkemeier, Gina - 62.000 %
6. Forum Zwei - Kasselmann, Bianca - 61.708 %
Grand Prix Kur to Music
1. Hubertus Schmidt - Hinnerk TSF - 75,200%
2. Christop Koschel - Fantomas - 73,050%
3. Ludwig Zierer - Weltino - 71,950%
4. Anabel Balkenhol - Rubins Royal - 70,350%
5. Katrin Bettenworth - Campanero - 61,100%