2009 European Dressage Championships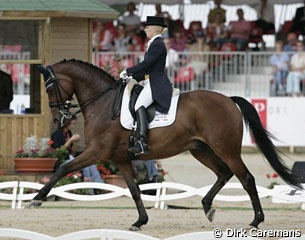 With just one week to go, organisers are pleased to announce definite entries for the 2009 European Dressage Championships 2009 (25-30 August) in Windsor, Great Britain.
The Championships are welcoming the best riders in the World to the magnificent showground within the private grounds of Windsor Castle. 33 of the world's top 100 Dressage combinations are taking part at these landmark Championships, where for the first time, both show jumping and dressage will be held together.
Nominated Entries - Dressage:
| | | |
| --- | --- | --- |
| AUT | Austria | Chef d'Equipe: Thomas Lang |
|   | ERDMANN, Nikolaus | Danny Wilde |
|   | GMOSER, Peter | Cointreau |
|   | MAX-THEURER, Victoria | Augustin OLD |
|   | MAYR, Hannes | Ellis |
| BEL | Belgium | Chef d'Equipe: Carmen De Bondt |
|   | DEVROE, Jeroen | Apollo van het Vijverhof |
|   | VAN INGELGEM, Stefan | Withney van t Genthof |
|   | VERWIMP, Wim | Maxwil v |
| BLR | Belarus |   |
|   | LIS, Iryna | Redford 2 |
| DEN | Denmark | Chef d'Equipe: Kimi Gerd Nielsen |
|   | HANSEN, Sune | Gredstedgårds Casmir |
|   | HELGSTRAND, Andreas | Tannenhof's Carabas |
|   | OLST, Anne van | Exquis Clearwater |
|   | SAYN-WITTGENSTEIN, Nathalie zu | Digby |
| ESP | Spain | Chef d'Equipe: Bobby Bobadilla |
|   | CASTILLA RUIZ, Claudio | Jade de MV |
|   | DOMINGO COLL, Jordi | Prestige |
|   | JIMENEZ, Juan Antonio | Piconero iv |
|   | MUÑOZ DIAZ, Juan Manuel | Fuego XII |
| FIN | Finland |   |
|   | KYRKLUND, Kyra | Max |
| FRA | France | Chef d'Equipe: Alain Francqueville |
|   | BOBLET, Marc | Whitni Star |
|   | CHEVANNE, Julia | Calimucho |
|   | PERRING, Hubert | Diabolo St Maurice |
|   | SIAT, Jean Philippe | Tarski van de zuuthoeve |
| GBR | Great Britain | Chef d'Equipe: Richard Davison |
|   | BECHTOLSHEIMER, Laura | Mistral Hojris |
|   | EILBERG, Maria | Two Sox |
|   | HESTER, Carl | Liebling II |
|   | HINDLE, Emma | Lancet |
| GER | Germany | Chef d'Equipe: Klaus Röser |
|   | LEBEK, Susanne | Potomac |
|   | RATH, Matthias Alexander | Sterntaler-Unicef |
|   | SCHULTEN-BAUMER, Ellen | Donatha S |
|   | THEODORESCU, Monica | Whisper |
| IRL | Ireland |   |
|   | MERVELDT, Anna | Coryolano |
|   | TRUESDALE, Yvette | Has to be fun |
| ITA | Italy | Chef d'Equipe: Massimo Petaccia |
|   | BORDONE, Susanna | Dark Surprise |
|   | PAPROCKA-CAMPANELLA, Anna | Prego |
|   | SANGIORGI, Pierluigi | Flourian |
| LAT | Latvia |   |
|   | PENELE, Airisa | Ravels |
| NED | Netherlands | Chef d'Equipe: Sjef Janssen |
|   | CORNELISSEN, Adelinde | Parzival |
|   | GAL, Edward | Totilas |
|   | GRUNSVEN, Anky van | Salinero |
|   | SCHELLEKENS-BARTELS, Imke | Sunrise |
| POL | Poland | Chef d'Equipe: Waclaw Pruchniewicz |
|   | MICHALIK, Olga | Harmonia |
|   | MILCZAREK, Katarzyna | Ekwador |
|   | RAPCEWICZ, Michal | Randon |
| POR | Portugal | Chef d'Equipe: Carlos Lopes |
|   | CAETANO, Maria | Diamant 391 |
|   | PINTO, Carlos | Poderoso do Retiro |
|   | PINTO, Daniel | Galopin de la Font |
| RUS | Russian Federation |   |
|   | BUSHINA, Larisa | Kompliment |
|   | KORELOVA, Alexandra | Balagur |
| SUI | Switzerland | Chef d'Equipe: Peter von Grebel |
|   | KRINKE SUSMELJ, Marcela | Corinth |
|   | PLÄGE, Christian | Regent |
| SWE | Sweden | Chef d'Equipe: Bo Jenå |
|   | ERIKSSON, Maria | Galliano |
|   | KITTEL, Patrick | Scandic |
|   | TELDE, Minna | Don Charly |
|   | VILHELMSON-SILFVEN, Tinne | Favourit |
| UKR | Ukraine | Chef d'Equipe: Iryna Shulga |
|   | KISELIOVA, Svetlana | Parish |
|   | KLIMKO, Olga | Highlight 36 |
|   | REJVES, Paulina | Topol |
| | | |
| --- | --- | --- |
| Nations: 19 | Competitors: 56 | Horses: 56 |
|   |   |   |
Back to the 2009 European Dressage Championship index