2009 European Dressage Championships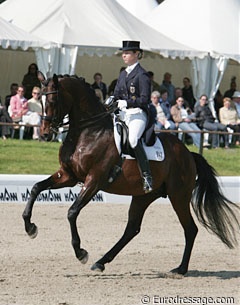 Never before has the German team trainer faced so many challenges selected a dressage team for an international championships. With five A-team riders dropping out of team selection, Holger Schmezer had to rake together a team to represent Germany at the 2009 European Dressage Championships in Windsor, Great Britain, Augst 25-30, 2009.
The selected team includes:
Mattias Alexander Rath - Sterntaler
Susanne Lebek - Potomac
Monica Theodorescu - Whisper
The fourth team place goes to Ellen Schulten-Baumer with Donatha S if she passes a doctor's check in the middle of next week. Schulten-Baumer fell off a horse last week and severely injured her neck. It is uncertain whether she will be able to ride.
In case Schulten-Baumer drops out, the fourth team rider will be Carola Koppelmann with Le Bo.
Back to the 2009 European Dressage Championship index