2009 Swedish Dressage Championships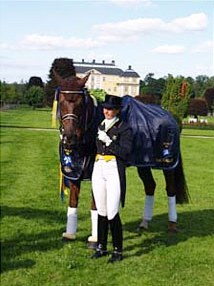 Tinne Vilhelmson won the 2009 Swedish Dressage Championships held at the Ericsberg castle in Katrineholm, Sweden. Aboard her new Grand Prix horse Favourit (by Fidermark x Worldchamp), Vilhelmson won both championship rounds.
Trained by Hubertus Schmidt and Louise Nathhorst, Vilhelmson was the strongest in the Grand Prix (71.617%) and Kur to Music (75.95%). Her overall score was the highest which earned her the gold medal. Maria Eriksson and her striking chestnut gelding Galliano obtained the silver with a 70.255% Grand Prix score and a 73% Kur score. The bronze medal went to Louise Nathhorst on Visums. They were fourth in the Grand Prix (68.255%) and improved in the Kur (71.55%).
"I'm incredibly satisfied," Vilhelmson commented after her kur, which was her first freestyle with Favourit. "I wanted him to make his kur debut here, because I think the atmosphere at Ericsberg is very positive for horses. I was a bit scared that he would be stressed by the music but he stayed very calm."
Results
Round 1 - Grand Prix
1 Tinne Vilhelmson Silfvén - Favourit - 71.617
2 Maria Eriksson - Galliano - 70.255
3 Charlotte Haid-Bondergaard - Lydianus - 69.362
4 Louise Nathhorst - Visums - 68.255
5 Caroline Bonde - Deela Mae - 66.766
6 Juliette Ramel - Ten Points - 65.745
7 Pia Fälth - Efendi - 64.681
8 Charlotte Haid-Bondergaard - Lonevan - 64.511
9 Emma Karlsson - Faradera - 64.085
10 Sofia Möller - Donna Carrera - 63.234
11 Karin Olsson - Guernica - 62.936
12 Charlotte Esping - Generalen - 62.681
13 Ulla Håkanson - Hyggebos Lidro - 62.468
14 Kristian Von Krusenstierna - Charleston - 62.383
15 AnneSophie Mannerfelt - Faeldgårdens Perwoy - 62.213
16 Jill Sandström - Heaven - 61.532
17 Magdalena Skatt - Zorino - 61.149
18 Anneli Morberg - Aida - 60.936
18 Pia Fälth - Auermann - 60.936
20 Marita Nyberg - Lotus - 59.957
21 Lotta Wallin - Lafayette - 58.553
Round 2 - Grand Prix Kur to Music
1 Tinne Vilhelmson Silfvén - Favourit - 75.950 GOLD
2 Maria Eriksson - Galliano - 73.000 SILVER
3 Louise Nathhorst - Visums - 71.550 BRONZE
4 Charlotte Haid-Bondergaard - Lydianus - 69.000
5 Pia Fälth - Efendi - 69.000
6 Emma Karlsson - Faradera - 68.800
7 Kristian Von Krusenstierna - Charleston - 66.650
8 Jill Sandström - Heaven - 66.450
9 AnneSophie Mannerfelt - Faeldgårdens Perwoy - 66.400
10 Charlotte Esping - Generalen - 66.100
11 Ulla Håkanson - Hyggebos Lidro - 65.250
12 Karin Olsson - Guernica - 62.000
Consolation Finals - Grand Prix Kur
1 Charlotte Haid-Bondergaard - Lonevan - 69.200
2 Pia Fälth - Auermann - 63.650
3 Lotta Wallin - Lafayette - 55.150
Related Links
Brink and DueBoje Win 2008 Swedish Dressage Championships
Scores 2007 Swedish Dressage Championships
Jan Brink, Swedish Dressage Champion for the Fifth Time
2004 Swedish Title, Icing on the Cake for Vilhelmson