2009 Danish Dressage Championships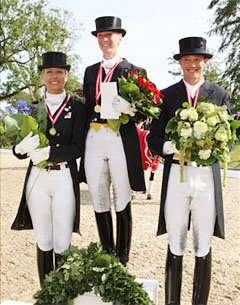 Danish princess Nathalie Zu Saeyn-Wittgenstein has claimed her second national Grand Prix champion's title. At the 2009 Danish Dressage Championships in Broholm, Denmark, Zu Saeyn-Wittgenstein proved to be unbeatable.
Aboard her second Grand Prix horse Rigoletto she won all three rounds and freewheeled to the gold medal.
Princess Nathalie captured her first Grand Prix champion's title in 2002 aboard Fantast S. Seven years later she has become one of the world's top 15 ranked riders.
Since she's been training with Kyra Kyrklund, her career took a huge leap forwards. Her horses Digby and Rigoletto (by Rubinstein) reached another level of excellence and have been solid 70% scoring mounts since then.
Zu Saeyn-Wittgenstein started both her horses in the Championship. With Digby she won the Grand Prix 72,4% and finished second with Rigoletto on 70,60%. She then chose to save Digby and continue the Championships with Rigoletto. She scored 72,7% in the Special and 78,1%% in the Kur to Music to win both classes and the gold medal.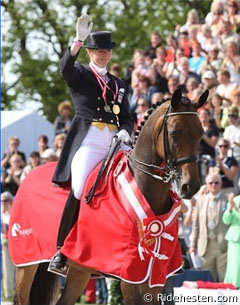 "It's fantastic to become the Danish Champion at such a beautiful location and with such enthusiastic crowds. I'm proud of Rigoletto because he was great," Zu Saeyn-Wittgenstein commented. "I was focused all the way because you can never be certain of the win before the Championship is over. But everything went really well in all three rounds. I'm very happy."
The silver medal went to Anne van Olst on the Danish bred Clearwater (by Carpaccio x Limebrand). The combination had to withdraw at the CDIO Aachen due to irregularity, but Clearwater appeared fit and fresh at the starters' line in Broholm. Van Olst scored 75.45% in the Kur to Music and finished second overall. The kur finals were quite exciting as Van Olst's Kur CD didn't work. She had to go outside the ring and fetch the reserve CD in her car. She was able to go last and perform her freestyle after all.
Newcomer Sune Hansen rose to the occasion and finished in bronze medal position aboard Blue Hors owned gelding Gredstedgards Casmir (by Continue). Hansen worked his way up from a fifth place in the Grand Prix (68,4%) to a third place in the Special (70,0%) and Kur (75,25%).
Bottom Photo courtesy: Ridehesten.com
Results
Grand Prix
1. Nathalie Zu Sayn Wittgenstein - Digby - 72,4
2. Nathalie Zu Sayn Wittgenstein - Rigoletto - 70,6
3. Andreas Helgstrand - Carabas - 68,6
3. Anne Van Olst - Clearwater - 68,6
5. Sune Laust Hansen - Gredstedgårds Casmir - 68,4
6. Michael Søgaard - Feisal - 66,4
7. Annemette Summers Mortensen - Mitchell Imhoff - 65,0
8. Mikala Gundersen - Leonberg - 64,9
9. Pernille Ørum - Lumiere - 64,4
10. Martin Christensen - Anatol - 64,3
11. Jon D. Pedersen - José Kilen - 64,3
12. Jeanette Sund - Aquino - 63,7
13. Camilla Frydendahl Sørensen - Ulan Rævdal - 63,6
14. Annette Toft - Comtesse Byhøj - 63,3
15. Lotte Vagner - Solero - 62,2
16. Kimi Gerd Nielsen - Christian Af Magnushøj - 56,1
Silvia Anika Hjelm Damgaard - Sandbæk´S Sorano - RET
Margit Ørum - Shogun - RET
Grand Prix Special
1. Nathalie Zu Saeyn-Wittgenstein - Rigoletto - 72,7
2. Anne van Olst - Clearwater - 70,1
3. Sune Hansen - Gredstedgårds Casmir - 70,0
4. Andreas Helgstrand - Carabas - 68,5
5. Michael Søgaard - Feisal - 67,3
6. Martin Christensen - Anatol - 65,8
7. Annemette Summers Mortensen - Mitchell Imhoff - 65,4
8. Mikala Gundersen - Leonberg - 64,3
9. Jeanette Sund - Aquino - 64,2
10. Jon D. Pedersen - José Kilen - 64,0
10. Pernille Ørum - Lumiere - 64,0
12. Annette Toft - Comtesse Byhøj - 63,9
13. Camilla Frydendahl Sørensen - Ulan Rævdal - 63,7
14. Lotte Vagner - Solero - 63,0
15. Kimi Gerd Nielsen - Christian Af Magnushøj - 62,7
Grand Prix Kur to Music
1. Nathalie zu Sayn-Wittgenstein - Rigoletto - 78,1%
1. Anne Van Olst - Clearwater - 75,45
3. Sune Laust Hansen - Gredstedgårds Casmir - 75,25 
4. Andreas Helgstrand - Carabas - 72,30
5. Michael Søgaard - Feisal - 72,00
6. Mikala Gundersen - Leonberg - 71,35
7. Pernille Ørum - Lümiere - 69,80
8. Jeanette Sund - Aquino - 68,80
9. Annemette Summers Mortensen - Mitchell Imhoff - 68,45 
10. Anette Toft - Comtesse Byhøj - 67,45
11. Lotte Vagner - Solero - 66,95
12. Martin Christensen - Anatol - 66,90
13. Kimi Gerd Nielsen - Christian Af Magnushøj - 66,50
14. Camilla Frydendahl Sørensen - Ulan Rævdal - 66,45
2009 Danish Dressage Championships
1 Rigoletto - Nathalie zu Sayn- Wittgenstein - 221,37
2 Clearwater - Anne Van Olst - 214,08
3 Gredstedgårds Casmir - Sune Laust Hansen - 213,72
4 Carabas - Andreas Helgstrand - 209,44
5 Feisal - Michael Søgaard - 205,71
6 Leonberg - Mikala Gundersen - 200,49
7 Mitchell Imhoff - Annemette Summers Mortensen - 198,81 
8 Lümiere - Pernille Ørum - 198,23 
9 Anatol - Martin Christensen - 196,99 
10 Aquino- Jeanette Sund - 196,75
11 Comtesse Byhøj - Anette Toft - 194,65
12 Ulan Rævdal - Camilla Frydendahl Sørensen - 193,73
13 Solero - Lotte Vagner - 192,12 B
14 Christian Af Magnushøj - Kimi Gerd Nielsen - 185,26
Related Links
Fourth Danish Title for Andreas Helgstrand at 2008 Danish Championships
Andreas Helgstrand, 2007 Danish Dressage Champion
Andreas Helgstrand and Matine, 2006 Danish Dressage Champions 
Scores 2004 Danish Dressage Championships
Nathalie Zu Saeyn/Wittgenstein, First Royal Dressage Champion Ever 
Scores 2001 Danish Dressage Championships