2009 Bundeschampionate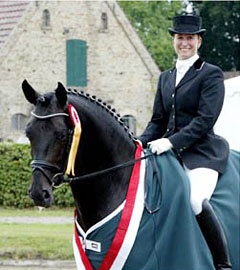 Though big international championships are sucking up all the attention, in Germany the Bundeschampionate qualifiers continue to take place each weekend. At the Westfalian regional championships in Munster-Handorf two BuCha qualification classes for dressage horses took place. The big winners were Dresden Man and Rubinio B.
Ingrid Klimke and the dark bay Westfalian branded stallion Dresden Man won the 5-year old Dressage Horse division. Klimke and the Dresemann x Florestan offspring scored 8.2 to top the ranking. Junior rider Fabienne Lütkemeier ranked second aboard the stallion Sole Mio (by Show Star x Lamoureux II) with 8.0. Wibke Stommel and the approved stallion Bravissimo (by Belissimo x Lord Sinclair) finished third posting a score of 7.6.
In the 6-year old Dressage Horse class, American Jennifer Hoffmann showed that she is well prepared for the 2009 World Young Horse Championships in Verden in two weeks. With her Westfalian stallion Rubinio B (by Rubin Royal x Florestan) she beat a big field of competitors and won the class. The combination scored between 8 and 8.5 on the basic gaits and general impression, totalling a score of 8.10. Brigitte Wittig and her own bred Westfalian gelding Balmoral W (by Breitling x Diego xx) slotted in second on an 8.0 score. Ilka Boening and the bay mare Saranya (by Show Star x Ehrentusch) ranked third with 7.6.
Results
5-year old Dressage Horses
1. Dresden Mann - Klimke,Ingrid - 8.20
2. Sole Mio - Lütkemeier,Fabienne - 8.00
3. Bravissimo - Stommel,Wibke - 7.60
4. Moccachino - Plaas-Beisemann,Heinrich - 7.40
4. Fandela - Werning,Julia - 7.40 
6. Wariness - Wienkamp,Ann-Christin - 7.30
6. Fee Kummerwie - Pielken,Friederike - 7.30
6. Sheraton - Schiergen,Heiner - 7.30 48,00
6. Spielberg - Lenaerts,Joyce - 7.30
10. Bella Donna - Balkenhol,Anabel - 7.20
10. Flaneur L - Fielicke,Kira Laura - 7.20
10. Selento K - Sauerwald,Tanja - 7.20
10. Finja - Kloth,Phillip - 7.20
14. Rosanne - Farwick,Michael - 7.10
14. Roxett Magic - Freye,Anne - 7.10
14. Collin Farell - Löpping,Vera - 7.10
17. Carlson - Serowy,Stefanie - 7.00
18. Fine and Smart - Dietrich,Jörg - 6.90
18. Fleur de Cadiss - Dietrich-Osten,Silve - 6.90
20. Schokoboy - Frieling,Vera - 6.70
21. Farinello - Fetzer,Olaf - 6.60
21. Luna Luce - Heidemann,Heidemarie - 6.60
21. Bellevue - Tschuschke,Amrei - 6.60
24. Sedan - Morgenstern,Meike - 6.50
25. Chic Chic St - Gößlinghoff,Andrea - 6.10
26. Fürstin Lao - Cordes,Sandra - 6.00
26. Rococo - Thomas,Kevin - 6.00
28. Sunny-Boy - Kasch,Sebastian - 5.80
Rassman - Pollmann-Schweckhorst,Christian - RET
6-year old Dressage Horses
1 Rubinio B - Hoffmann,Jennifer - - 8.10
2 Balmoral W - Wittig,Brigitte - 8.00
3 Saranya - Boening,Dr.Ilka - 7.60
4 Figo RH - Deerberg,Sabrina - 7.50
4 Shylock - Hermes,Marcus - 7.50
4 Fengh-Shui - Horstmann,Anne - 7.50
7 Danzarin - Kitzing,Jenny - 7.30
8 Corlando - Winkelhues,Katharina - 7.20
8 Fibonacci - Weihermüller,Stefanie - 7.20
8 Ally S - Keersmaekers,Tim - 7.20
11 Wilson - Bache,Isabel - 7.10
12 Serrano - H - Horstmann,Anne - 7.00
12 Utopia H - Vidal,Juan Manuel - 7.00
14 San Sierra - Becker,Sabine - 6.90
15 Devil's Dance - Brakemper,Marlies - 6.80
16 Faberge - Koers,Kristin- 6.70
16 Rubin-Noir - Sandbrink,Stefan - 6.70
18 Fantastic Coulor - Slüter,Annika - 6.60
19 L'amour toujour CZ - Kappke,Tobias - 5.30