2009 Bundeschampionate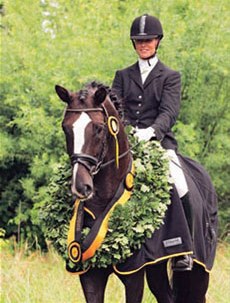 With a low number of entries for the Bundeschampionate classes at the qualifier in Tübingen, July 3-5 2009, only two horses ended up qualifying for Warendorf. The highlight performance of the day came from Nicole Casper on Birkhofs Don Diamond.
Casper won the 5-year old dressage horse class with Don Diamond (by Diamond Hit) scoring a fantasic 9.0 score. They left second placegetters Margit Grab on the Baden Wurttemberger bred Samba Time (by Sir Oldenburg) far behind them. This duo scored 8.0.
In the 6-year old dressage horse class, Casper won again with Birkhofs Dave, a Baden Wurttemberger branded offspring by Denaro. They scored 7.6 to win the class, but it wasn't enough to qualify for Warendorf. Julia Machat and Destino D, an Oldenburg by Dream of Heidelberg II, placed second with 7.4.
Results
5-year old Dressage Horses
1 Birkhof's Don Diamond - Casper, Nicole - 9.00
2 Samba Time - Grab, Margit - 8.00
3 Dolce Vita - Siegle, Maria - 7.80
4 Sir Württemberg - Schröppel, Volker - 7.50
5 First Line - Burger, Katrin - 7.40
5 Birkhof's Touch me - Stankus, Falk - 7.40
7 Helle Freude- Bauer, Hans-Peter - 7.30
8 Rozier de Frasim - Angst, Frank - 7.00
8 Arcontino - Eckstein-Unger, Anica - 7.00
So what Siggi - Bosler, Barbara - DNS
6-year old Dressage Horses
1 Birkhof's Dave - Casper, Nicole - 7.60
2 Destino D - Machat, Julia - 7.40
3 Fürstengold - Matthes, Gabriele - 7.20
4 Sir Sandro - Oberthür, Irina - 7.10
Salazar - Burger, Katrin - RET/DNS
Roquefort - Zeiske, Holger - RET/DNS