German Dressage News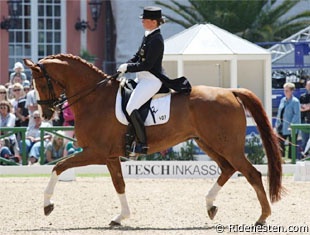 Isabell Werth's small tour horse Whisper tested positive to doping after a medication test carried out on Monday 30 May 2009 at the CDI Wiesbaden in Germany.
Werth has been immediately suspended by the FEI and will not be able to compete at Aachen.
Werth's 10-year old chestnut gelding Whisper (by Wolkentanz I x Einstand) tested positive to Fluphenazine, a drug usually applied as antipsychotic for humans. It is used for the treatment of schizophrenia and bipolar disorder. One of its side effects is sedation, which is a reason why it could be used by equestrians.
Breido Graf zu Rantzau, president of the German Equestrian Federation, made the following statement: "This is a catastrophe for the horse sport. But we don't let ourselves be discouraged by all this negative news as we pave the way to a fair horse sport."
There will be an FEI Tribunal hearing on 25th June 2009, at which it will be decided whether the suspension is temporary or not. A suspension after a positive A-test is internationally obligatory since one year and a half.
Isabell Werth has requested the disclosure of the B-test.
Photo courtesy: Ridehesten.com
Related Links
Dr. Cordula Gather, New German Dressage Team Vet
German Equestrian Sport in Crisis: All A and B Teams Suspended
Medals, Doping, Equestrian Sport - What will the Future be Like?
German Team Vet Björn Nolting Says Bye Bye to Jumpers