2009 Bundeschampionate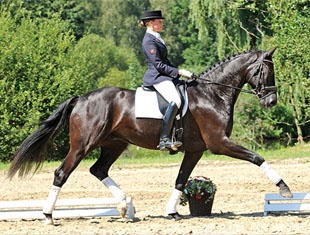 Esther Maruhn and Watulele were the winners of the Bundeschampionate qualification class held at the regional show in Wedel, Germany, May 30 - June 1, 2009. The Wedel show only featured a BuCha selection class for 5-year old Dressage Horses.
Kirchwalsede based Esther Maruhn and her Hanoverian gelding Watulele (by Wolkenstein II x Frappant) scored a stunning 8.80, the highest score achieved this 2009 show season by any BuCha rider so far. Peter Koch finished second on Durbridge (by Depardieu x Sixtus x Arogno) with an 8.7 score. The black gelding (pictured) is owned by the Böckmann-Heinrich-family in Schenefeld, the publishers of the German newspaper Kieler Nachrichten. They purchased the gelding for 320,000 euro as price highlight of the Klosterhof Medingen auction in 2008.
Four riders were able to qualify for Warendorf by scoring over 8.0. Maruhn and Koch were followed by Jan Lens on the Holsteiner stallion Anuk (by Almoretto x Latino) with 8.5 and Steffen Frahm on Doug and Louise Leatherdale's Hanoverian licensed stallion Hampton (by His Highness x Rotspon) on 8.2.
Results
5-year old Dressage Horse class
1. Esther Maruhn - Watulele - 8.80
2. Peter Koch - Durbridge - 8.70
3. Jan Lens - Anuk - 8.50
4. Steffen Frahm - Hampton - 8.20
5. Inger Jane Steen - Fürst Fridolin - 7.80
5. Sonja Franzenburg-Much - Ursa - 7.80
7. Sabine Rueben - Rezeptor - 7.70
8. Anne Torp Madsen - Royal Princess M - 7.60
9. Katrin Burger - Daily Diamond - 7.50
10. Claudia Delfs - Al Martino - 7.40
10. Katrin Burger - First Line - 7.40
12. Steffen Frahm - Benidetto - 7.30
12. Sarah Joanna de Boer - Doremifasola - 7.30
12. Esther Maruhn - Final Cut - 7.30
15. Arndt Hönke - Bocelli M - 7.00