Belgian Dressage News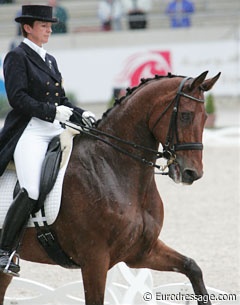 Belgian Grand Prix rider Françoise Hologne-Joux has retired her number one Grand Prix mount Born. The 19-year old Czech warmblood gelding Born is by Biskaj Liberecky x Hubertus Humbursky and had his most successful season in 2008 at age 18.
Born was a super star in passage, outclassing many higher ranked horses in this movement. He competed at the 2008 CDIO Aachen, won two big tour classes at the CDI Pompadour, and finished 11th in the Kur to Music at the CDI-W Mechelen. The pair was the silver medal winning reserve champion at the 2008 and 2007 Belgian Dressage Championships. They competed at members of the Belgian team at the 2007 European Championships in Turin, Italy.
"It was a difficult decision to retire him, because Born is still in perfect health," Hologne-Joux told Eurodressage. "But I believe that considering his age he deserves this retirement. I wish that everyone will remember him as a horse with lots of charm and much willingness to work. He had the eagerness to be a big winner. I wish any rider will come across such a horse one day."
Related Links
Stefan van Ingelgem, 2008 Belgian Dressage Champion
Scores 2008 CDI Pompadour
Photo Report - 2008 CDIO Aachen
Belgian Team Selected for the 2007 European Dressage Championships