2009 Bundeschampionate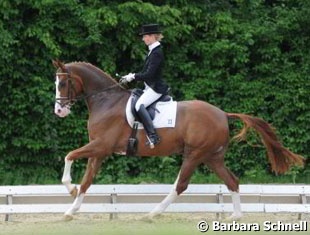 On Saturday 9 May 2009, Bundeschampionate qualification classes took place for 5 and 6-year old dressage horses at the regional show in Duisburg-Hamborn, Germany.
Three winners emerged from a huge field of competitors: Blickpunkt, Donna Belissima and Rash.
The 5-year old Dressage Horse division was split into two groups and judged by Reinhard Richenhagen, Ulrike Böckler and Ulrike Nivelle. Group 1 was won by Eva Möller aboard Silvia Rizzo's Westfalian gelding Blickpunkt (by Belissimo M x Weltmeyer). She scored an impressive total score of 8.6 and left all competition far behind her. Jana Freund and the black mare FS La Noir (by Lord Loxley x Lucito) placed second with 8.3, followed by Marion Engelen with Show Boy in third place.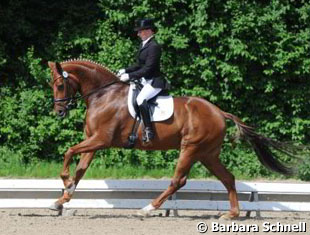 In Group 2 of the 5-year old Dressage Horses three horses were able to post a qualification score of 8.0 or higher. Jana Freund won the class aboard her own bred Donna Belissima, a Donquestador x Weltmeyer mare. The pair achieved 8.4 and beat Ulf Möller on Paul Schockemohle's licensed breeding stallion Fürst Romancier (by Fürst Heinrich x Romancier. They got 8.3 to finish second and were followed in the ranking by Erik Bültjer on Lionheart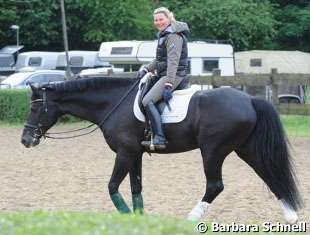 There were eleven horses in the 6-year old dressage horse division and Danish Fie Skarsoe was able to ride the highest score. With Rash (by Ron William x Cordeur) Skarsoe scored 8.1 to claim victory. Manuela Gorski and the Hanoverian branded gelding Henny Hennessy (by Hofrat x Achenbach) landed second place on 8.0.
Photo courtesy: Barbara Schnell
Results
5-year old Dressage Horses - Group 1
1 Blickpunkt - Möller,Eva - 8.60 
2 FS La Noir - Freund,Jana - 8.30 
3 Show Boy - Engelen,Marion- 8.20 
4 Soliere - Möller,Eva - 7.80 
5 Laudatio - Leuchten,Bettina - 7.60 
6 Lord of Dance - Frieß,Stefanie - 7.40
6 Relashio - Reisch,Christian - 7.40
6 Decor Delatio - Rongen,Miranda - 7.40
9 Finnya - Camp,Katja - 7.30
9 Londontown S - Hansen,Insa - 7.30
9 For Compliment - Kerner,Stefanie - 7.30
9 Freedom - Skarsoe,Fie Christine - 7.30
13 Aber Hallo - Kerner,Stefanie - 7.20
14 Rose Magic - Ernst,Tanja - 7.10
14 Rocky Mountain - Hansen,Insa - 7.10
14 Flying Princess - Konings,Christina - 7.10
17 Donnington Park - Kleimeyer,Christoph - 7.00
17 White Valentino - Kluth,Detlef - 7.00
17 Donaugold - Möller Dr.,Ulf - 7.00
20 Carlson - Serowy,Stefanie - 6.90
20 Faible - Spickermann,Katrin - 6.90
20 Sole Mio - Lütkemeier,Fabienne - 6.90
23 Roma - Wadenspanner,Max - 6.80
24 Lucretino - Walter,Rebekka - 6.60
25 Lanagen - Edelhoff,Birgit - 6.50
5-year old Dressage Horses - Group 2
1 Donna Belissima - Freund,Jana - 8.40 
2 Fürst Romancier - Möller Dr.,Ulf - 8.30 
3 Lionheart - Bültjer,Erik - 8.00 
4 Flatley - Bouten,Matthias - 7.70 
5 Freixenet - Bouten,Matthias - 7.50 
5 Forbes - Camp,Lydia - 7.50 
5 Rohjuwel - Langehanenberg,Helen - 7.50 
5 Santa's little Dream - Langehanenberg,Helen - 7.50 
5 Biedermeier - Langehanenberg,Sebastian - 7.50 
5 Sheraton - Schiergen,Heiner - 7.50
6-year old Dressage Horses
1 Rash - Skarsoe,Fie Christine- 8.10 
2 Henny Hennessy - Gorski,Manuela - 8.00 
3 Show Love - Konings,Christina - 7.70
4 Krack - Bouten,Matthias - 7.30 
4 Debonnet - Möller Dr.,Ulf - 7.30 
6 Laurenziano- Haller,Claudia - 7.20
7 Dino Martino - Häschke,Antje - 6.70
8 Fernando Noir - Putz,Christopher - 6.60
9 Fürst Fantasy - Freund,Jana - 6.50
10 Da bin Ich - Baumgartner,Stefanie - 6.40
11 Finn - Konings,Ludo - 6.20
Photo Report by Barbara Schnell
Back to the 2009 Bundeschampionate Index