2009 Bundeschampionate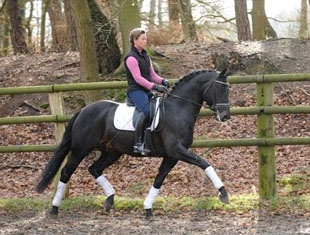 Rosandro, Leyenda, and San Schufro have won the first Bundeschampionate qualifier of the season held in Iserlohn, Germany, May 2-3, 2009.
The five year old division was split into two groups and Rosandro and Leyenda emerged as winners. Oldenburg stallion San Schufro bested the field in the six-year old dressage horse class.
Last year, the German Equestrian Federation changed the rules and dropped the qualification score for the Finals down to a 7.8 mark. This year, the changed idea again and went back to the old rule where 8.0 is the official score criterium to make it to the Finals in Warendorf.
Kira Wulferding and Sissy Max-Theurer's Oldenburg licensed stallion Rosandro (by Rosario x Sandro Hit) won group one of the 5-year old Dressage Horse division. Wulferding and her sensitive black stallion posted a score of 8.4. Holga Finken and Hofgraf, a Hanoverian stallion by Hofrat x Weltruhm, placed second in a field of twenty-seven competitors. They got 8.2 from the judges. Third placegetters were Nadine Paster and her stallion Mr. Touchdown (by Tullamore x Donnerhall) with 8.0
In group two, Oliver Oelrich and the mare Leyenda rose to the top with 8.3. He beat Wibke Stommel on Reesink Horses' licensed stallion Bravissimo (by Belissimo M) which got 8.1. Sebastian Langehanenberg landed a third place on his own licensed Oldenburg stallion Froschkönig (by Furst Heinrich x De Niro) with 8.00.
Heiko Klausing won the 6-year old Dressage Horse class aboard the Oldenburg licensed stallion San Schufro (by Sandro Hit x Don Schufro). Bred by Paul Schockemohle, San Schufro obtained an 8.3 winning score. Klausing's life partner Kira Wulferding finished second with Sissy Max-Theurer's Oldenburg mare Della Cavalleria OLD (by Diamond Hit x Rubinstein). She stayed 0.1 point behind San Schufro. Two riders tied for third place on an 8.10 score: Finnish Emma Kanerva on Furst Kasper (by Furst Piccolo) and Felicitas Lackas on Richmond.
Results
5-year old Dressage Horses - Group 1
1. Kira Wulferding - Rosandro - 8.40
2. Holga Finken - Hofgraf - 8.20
3. Nadine Plaster - Mr. Touchdown - 8.00
3. Anne Lene Holmen - Rainbow Dancer - 8.00
5. Ingrid Klimke - Dresden Mann - 7.60
6. Insa Hansen - Londontown S - 7.50
7. Stefanie Kerner - Aber Hallo - 7.40
7. Klarissa-Alexandra Liss - Dejavu - 7.40
9. Klarissa-Alexandra Liss - Ravella Laurie - 7.30
10. Christoph Koschel - Florentiner - 7.20
11. Gabriele Rund-Köllner - Beaufort - 7.10
11. Stefanie Serowy - Carlson - 7.10
11. Tanja Sauerwald - Fair Play - 7.10
11. Emma Kanerva - Fiaro Lacendos - 7.10
11. Margot Noffke - Flavian - 7.10
11. Uwe Ruck - Longchamp - 7.10
17. Andrea Gößlinghoff - Chic Chic St - 7.00
17. Klarissa-Alexandra Liss - Flamaz - 7.00
19. Christoph Koschel - Lollipop - 6.90
19. Stefanie Wittmann - Loxley - 6.90
21. Stefanie Wittmann - Fiona - 6.80
21. Andrea Ulmker - Sting - 6.80
21. Melanie Sandig - Westerntanz - 6.80
21. Insa Hansen - Rocky Mountain - 6.80
25. Kathrin Middelmann - Leniero F.M. - 6.40
25. Heidemarie Heidemann - Luna Luce - 6.40
27. Andrea Ulmker - Carlotta - 6.30
27. Caroline Meriaux - Donaugold - 6.30
5-year old Dressage Horses - Group 2
1. Oliver Oelrich - Leyenda - 8.30
2. Wibke Stommel - Bravissimo - 8.10
3. Sebastian Langehanenberg - Froschkönig - 8.00
3. Marion Wiebusch - So Nice - 8.00
5. Claudia Rüscher - Rubitano - 7.60
6. Anne Lene Holmen - Campari - 7.50
7. Tanja Sauerwald - Selento K - 7.40
6-year old Dressage Horses
1. Heiko Klausing - San Schufro - 8.30
2. Kira Wulferding - Della Cavalleria OLD - 8.20
3. Emma Kanerva - Fürst Kaspar - 8.10
3. Felicitas Lackas - Richmond - 8.10
5. Nadine Plaster - Desperado OLD - 8.00
6. Charlott-Maria Schürmann - Burlington - 7.60
7. Anne Horstmann - Fengh-Shui - 7.50
7. Frode Nesheim - Silencium - 7.50
7. Susan de Klein - Succes - 7.50
10. Karin Ammeling - Curacao - 7.40
10. Friederike Kampmeyer - Feine Dame - 7.40
12. Caroline Meriaux - Daiquiri - 7.30
13. Sabrina Deerberg - Figo RH - 7.20
14. Manuela Gorski - Henny Hennessy - 7.10
15. Rocco Di Pierro - Principessa - 7.00
16. Stefanie Baumgartner - Da bin Ich - 7 6.80
16. Janina Kletke - Fairy Dancer - 6.80