2009 Horse of the Year Show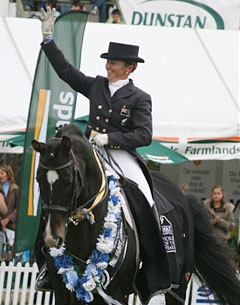 New Zealand's 22-year-old grandfather of dressage has finally pulled off the prestigious Horse of the Year title, after being runner-up for the last four years at the New Zealand Horse of the Year Show.
Raglan's Jody Hartstone coaxed a winning test out of her Holsteiner stallion Landioso, to finally take the title she has been chasing.
"I'm really thrilled," she said. "Landi has done some super tests here at Horse of the Year over the years and we have been so very close. To finally win it is great."
It was perfect swansong for the imported stallion, who is the oldest horse competing at this top level in New Zealand, and possibly the world. Imported from Holland, Landioso was formerly ridden by Dutch European pony champion Birgitt Van Der Eijken. 
Landioso's expressive tests are always a crowd favourite and this year was no exception. Hartstone's bold Kur attracted hundreds of spectators from around the Hastings showgrounds. Along with notching up the Grand Prix Horse of the Year title, Landioso also won the sought after NZ$10,000 first prize in the BNZ*** CDI Musical Freestyle.
The win is a double victory, coming just a fortnight after Hartstone and Landioso won the New Zealand National Grand Prix Championship in Christchurch, placing first in every one of their tests. It was a closer call at Horse of the Year though, with Hartstone only just managing to fend off the rest of the field by the smallest of margins. Hartstone and Landioso finished the Kur on 66.45%, just one percent ahead of second placed Karen Anderson (Whakatane) on 65.1%.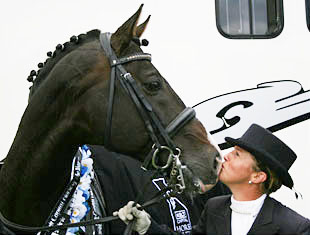 Digging deep to produce their best test yet, Anderson and her Irish Hunter, Komplete Kaos, couldn't quite match Landioso's almost 15 years of mileage competing at this Grand Prix level. It was however the perfect confidence boost for Anderson, who will wear the Silver Fern for the first time when she and Komplete Kaos represent New Zealand at the Sydney CDI later this year.
Hartstone's other imported stallion Donnerwind finished third overall in the Grand Prix Horse off the Year class. Donnerwind is owned in conjunction with Stal Nijenhuis (Holland).
by Lisa Potter
Results
Grand Prix Dressage Horse Of The Year 2009
1. Jody Hartstone, Landioso
2. Karen Anderson, Komplete Kaos
3. Jody Hartstone, Donnerwind
4. Louisa Hill, Bates Virtuoso
5. Charlot Bayliss, All Black II
6. Jenny Scotter, JK L'Amour.
Grand Prix Freestyle
1. Jody Hartstone - Landioso - 66.45
2. Karen Anderson - Komplete Kaos - 65.10
3. Louisa Hill - Bates Virtuoso - 64.75
4. Charlott Bayliss - All Black II - 62.25
5. Jenny Scotter - JK L'Amour - 61
Grand Prix
1. Jody Hartstone - Landioso - 60.29
2. Jenny Scotter - JK L'Amour - 59.66
3. Karen Anderson - Komplete Kaos - 58.97
4. Charlott Bayliss - All Black II - 58.76
5. Louisa Hill - Bates Virtuoso - 58.46
6. Jody Hartstone - Donnerwind - 56.72
Related Links
Hartstone Recaptures New Zealand Dressage Champion's Title
Angela Fergusson, A Fresh Face for Horse of the Year 2008
Vincent St James and Monique III, 2006 NZ Horses of the Year