2009 Dutch Indoor Dressage Championships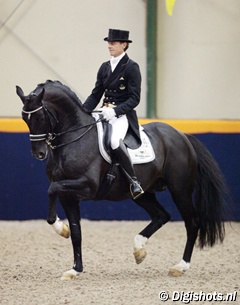 Winter competitions in The Netherlands have come to an end with its annual apex, the Dutch Indoor Championships in Ermelo, The Netherlands. This year's Indoor Champions are Angela Krooswijk, Emmelie Scholtens, Richelle Ter Haak and Edward Gal as they became the overall winners
in their division after three days of competition. Especially the victory of Edward Gal is worth mentioning and he has been scoring upper seventies scores, which would put him internationally right at the top alongside and even above Anky van Grunsven and Isabell Werth.
The Dutch Indoor Grand Prix Championship consisted of two rounds, the Grand Prix and the Kur to Music. Edward Gal and the black Dutch warmblood stallion Totilas (by Gribaldi x Glendale) were untouchable for the other riders. In the Grand Prix, the duo scored 77,80% and in the kur to music they got 82,92%. Their total average of 80,36% is a mark hard to achieve by any high quality combination. Jeanette Haazen and her huge bay gelding Nartan (by Jazz x Le Faquin xx) made a brave attempt to near that mark. With 69,93% in the Grand Prix and 76,25% in the Kur, they averaged 73,09%, good to become the reserve champions. Kirsten Beckers and the legendary breeding stallion Jazz (by Cocktail) finished third.
"Of course there is the temptation to show Totilas at the CDI-W 's Hertogenbosch, but I can resist that. We will keep training quietly and do a small show once in a while to seek the confirmation," said Edward Gal after his winning kur. "I don't want to force anything and allow this talent to ripen slowly."
Naturally the Dutch are blowing their horn now having such a super star as Totilas at their disaposal for Holland. A team with Salinero, Parzival and Totilas will guarantee gold at any big championship, if all goes well. Furthermore, the Germans have not produced any rising super star in recent years, while Holland has put forward Parzival and Totilas just the past two years alone.
At small tour level, 25-year old Richelle Ter Haak and her stallion Lest Best confirmed their excellent form by winning the Prix St Georges, Intermediare 1 and Intermediaire I Kur to Music. Aboard Nathalie van der Eijkern's 16-year old Dutch warmblood stallion Lest Best V (by Damiro x Ghyll Manor) Ter Haak scored impressive, winning marks of 74,58%, 67,11% and 71,40% for her well executed tests. Her average total was 71,03%. Sponsored by her father, the former young rider Ter Haak runs a small dressage stable of 14 horses in total of which 8 are in training. She trains regularly with Jurgen and Christoph Koschel.
"To have one hundred percent control is absolutely necessary because otherwise youeasily make a mistake," Ter Haak commented. "I'm glad that I have this horse to ride. I'll keep riding him at small tour level the upcoming outdoor season and in the autumn I want to do the Future tests to make the transition to the big tour. We're already preparing for that with my trainer."
Sarah van Fessem and the black Dutch bred mare Hyperions Tanirma (by De Niro) became the reserve champions at small tour level. They scored 71,17% in the Prix St Georges, 66,58% in the Intermediaire I and 67,19% in the Inter I Kur to Music.
At ZZ-licht level (comparable to the U.S. Third/Fourth level), Dutch junior rider Angela Krooswijk was unbeatable aboard Coby van Baalen and Johann Hinnemann's Westfalian licensed stallion Roman Nature (by Rohdiamant). Krooswijk scored 71,67% in the final kur to music after having won the first two rounds with 68,48 and 70,69%. Her average score totalled 70,28% which put her more than two percent ahead of Tommie Visser on Santodomingo (by Krack C).
"I was the favourite for the championships, which put some pressure on my shoulder, but for some reason I can handle pressure well," champion Angela Krooswijk explained. "Roman Nature is a very experienced horse, but he is still a stallion and you really have to be able to ride him to manage that in the ring."
At ZZ-Zwaar level (Fourth level) Christa Laarakkers' in-house rider Emmelie Scholtens reigned aboard the dark bay Dutch warmblood stallion Uphill (by Oscar). She won all three test with upper sixties scores. In the Kur to Music, the combination even breached the 70% barrier and got 70;58% frolm the judges. Her average total was 69,67. The ZZ-Zwaar reserve champion is Dutch team young rider Michelle van Lanen aboard the 19-year old Incredible (by Voltaire x Pericles xx).
"Everything went really easily in all three tests," Scholtens stated. "Uphill did everything with great ease. We didn't score any insufficiences in any of the three tests and laid a good foundation for this championship."
Photos copyrighted: Digishots.nl
Results
ZZ-Licht (Third/Fourth level)
Rider - Horse - Kur score - test 1 - test 2 --- total average
1. Angela Krooswijk - Roman Nature - 71,67 - 68,48 - 70,69 --- 70,28
2. Tommie Visser - Santodomingo - 71,00 - 65,71 - 67,94 --- 68,22
3. Geert-jan Raateland - Daddy Cool - 67,92 - 63,71 - 65,20 --- 65,61
4. Mischa Koot - U2 - 69,58 - 64,10 - 61,96 --- 65,21
5. Elise Kettner - Rammezottie - 65,67 - 63,52 - 61,96 --- 63,72
6. Dennis Ausma - Unicum D - 64,92 - 62,48 - 61,96 --- 63,12
7. Emmelie Scholtens - Union Jack NL - 63,08 - 64,19 - 60,39 --- 62,55
8. Marieke Pijnenburg - Unette - 63,00 - 62,48 - 60,88 --- 62,12
ZZ-Zwaar (Fourth Level)
1. Emmelie Scholtens - Uphill - 70,58 - 69,03 - 68,19 --- 69,27
2. Michelle van Lanen - Incredible - 69,17 - 66,99 - 66,86 --- 67,67
3. Thamar Zweistra - Hexagons Update - 66,75 - 64,19 - 66,19 --- 65,71
4. Marian van Bommel - Mavabo's Roancka - 66,00 - 62,90 - 63,43 --- 64,11
5. Remy Bastings - Travolta - 62,67 - 62,15 - 64,10 --- 62,97
6. Katja Gevers - Thriller - 64,50 - 62,04 - 61,90 --- 62,81
7. Paulien Alberts - Lord Potter - 62,42 - 63,55 - 61,62 --- 62,53
8. Mégin Kuykhoven - Toronto - 62,67 - 61,29 - 62,38 --- 62,11
Small Tour level
1. Richelle ter Haak - Lest Best V - 74,58 - 67,11 - 71,40 --- 71,03
2. Sarah van Fessem - Hyperions Tanirma - 71,17 - 66,58 - 67,19 --- 68,31
3. Seth Boschman - Twister - 70,08 - 65,79 - 66,49 --- 67,45
4. Kebie van der Heijden - Toy Story - 67,08 - 65,18 - 66,23 --- 66,16
5. Patrick van der Meer - Ultiems Flemming - 65,83 - 66,40 - 65,00 --- 65,74
6. Thamar Zweistra - Hexagons Truppa - 68,25 - 64,30 - 64,39 --- 65,65
7. Remy Bastings - Riverdance - 64,58 - 65,61 - 66,14 --- 65,44
8. Marjolein Hart - Piccolo - 68,33 - 63,51 - 64,30 --- 65,38
Big Tour Level
1. Edward Gal - Moorlands Totilas - 82,92 - 77,80 --- 80,36
2. Jeannette Haazen - Nartan - 76,25 - 69,93 --- 73,09
3. Kirsten Beckers - Broere Jazz - 73,00 - 67,73 --- 70,37
4. Marlies van Baalen - Phoebe - 70,75 - 67,94 --- 69,35
5. Christa Laarakkers - Ovation - 70,08 - 67,09 --- 68,59
6. Anne van Uytert - Lucky Times - 68,92 - 65,89 --- 67,40
7. Manon van Hylckama Vlieg - Poko Loko - 65,00 - 64,82 --- 64,91
8. Petri Bax - Oriento - 66,00 - 63,48 --- 64,74
Related Links
Maas and Van Grunsven, 2008 Dutch Indoor Champions
Hanzon and Cornelissen In the Blue at 2007 Dutch Indoor Championships
Schulkens, Beckers, Vrees and Van Lieren, 2005 Dutch Indoor Champions
Schulkens, Haazen, Hanzon and Callaghan 2003 Dutch Indoor Champions