Swedish Dressage News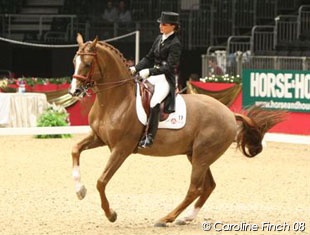 Swedish Grand Prix rider Minna Telde has been able to secure the ride on Don Charly... by buying the horse herself. The licensed Hanoverian stallion Don Charly has become one of the shooting stars of the international dressage scene and became a hot cake for buyers.
If Telde wanted to guarantee a future with him she had to find a sponsor. Her search was fruitless, so she was forced to buy him herself to continue riding him.
"I'm super happy and proud to be owning Don Charly," Telde said. "He's a horse I truly believe in and think highly of."
Previously owned by Birgitta Kjellin and horse dealer Johan Ifverson, the rising 12-year old stallion Don Charly (by Don Gregory x Inschallah AA) has been in training of Telde since he was a five-year old. The pair competed at the 2003 World Young Horse Championships in Verden, Germany, and then become competitors to be reckoned with at small tour level. The duo made its transition to international Grand Prix in 2008.
Don Charly is one of the most important rising dressage horses in Sweden and it is great the horse can now stay in Sweden, Swedish chef d'Equipe Bo Jenå communicated. "Minna borrowed the money to be able to buy the whole horse," Jenå said.
The acquisition is not a permanent solution as Telde hopes to find a sponsor who can support them towards the 2009 European Championships, 2010 World Equestrian Games and 2012 Olympics.
Photos copyrighted: Caroline Finch
Related Links
Minna Telde Leaves Tullstorp and Goes Independent
Minna Telde and Don Charly Dazzle at 2004 Swedish Championships
Bjorsells Sack Sold to Denmark