2008 Young Rider World Cup Final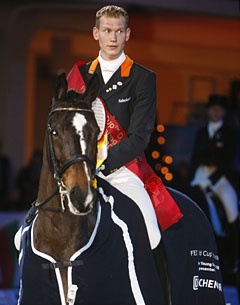 Dutch reigning European Young Rider champion Diederik van Silfhout is the new winner of the World Cup Final for Young Riders. In the third and decisive test of the World Cup Final for Young Riders Diederik once again took the lead
, thus leaving the runner up position to Danish Anna Kasprzak and her stallion Blue Hors Future Cup.
"Yes, I have been expanding now my European platform to the world", the son of Grand Prix-rider Alex van Silfhout said joking.
It was not a win by surprise for Diederik van Silfhout. After the successful European Championships last summer he gave his Gribaldi-sired mare Ruby some deserved rest and concentrated on other horses, to start her training again last October.
"Ruby needs some show routine, so I took her for an educational clinic and a small show, hoping this would bring her in the right rhythm again. And although here in Frankfurt she still felt a little bit shy and looking where to put her feet, she gave me a tremendous feeling and went safe and without mistakes through all three tests", the 19-year old said proudly.
The Neil Diamond themed Freestyle for Ruby created by Charles Monterie especially brings the attention to the harmonious and elegant trotting part of the test. Very special also is the final part, which brings the emotion by simply ending in walk.
Danish Anna Kasprzak had chosen for Michal Jackson to express the power of her 12-year old stallion Future Cup (by Florestan). The special choreography wih extensions and tempi changes on round lines were highlights. French Antoine Lion kept his best test to the last, thus being rewarded with the third position. German Kathleen Keller and Florestan did a nice test but lacked some impulsion and engagement compared to the first three. She was rewarded with the fourth prize.
The first three medallists were of a very good quality. The average quality in this fourth WC™ Final for Young Riders compared to that of the first two years of this WC™ Final for YR has been improved a lot, which proves the importance and influence of this show. The help of experienced trainers and Grand Prix riders adds to the success.

For many Young Riders the huge and colourful Festhallen in Frankfurt in Christmas-atmosphere were a very impressive décor for a horseshow anyway. In the B-Final sometimes program failures occurred. From the overseas participants Australian Jayden Brown and Widelo based in the stables of Canadian Leonie Bramall did the best. He won the B-Final. Jayden Brown and Widelo won all CDI-Y Freestyle competitions in Australia this season to qualify. It too the pair 40-hours flying to reach Germany and Jayden Brown arrived early enough to take more out of this adventure. So he competed at CDN Elmshorn and was able to be a part of a special treaining seminar with German Reitmeister Johann Hinnemann together with his riding teacher  Leonie Bramall.
"In Elmshorn I witnesses a little bit of a strange feeling warming up with Karin Rehbein and Holga Finken", commented Jayden Brown. "Now in Frankfurt even Isabell Werth was training and losing her horse! It has been great to have the opportunity to get two lesson's from someone like Jo Hinnemann and being at such a huge event as Frankfurt with the CDI-W. Also the Nurnburg Burgpokal Final for younger Grand Prix horses I won't easily forget", Jayden said.
The 19-year old Laura Noyes of Falmouth, Maine, rode her own Trakehner bred Syncro, who is by Enrico Caruso out of the ATA recognized exceptional mare Sonset (Habicht x Magnet x Marsuk ox) to the third place in the B-Final.
Encouraged by international rider Ann Kathrinn Linsenhoff all riders added a present to Unicef under the big Christmas Tree as well, which was next to competing and celebrating friendship and hospitality another good thing to share with each other.
Photo copyrighted: Stefan Lafrentz
Related Links
Scores 2008 CDI-W Frankfurt
Photo Report: 2008 CDI-W Frankfurt
Isabell Werth Shows Supremacy and Harmony at 2008 CDI-W Frankfurt
Jayden Brown to Represent Australia at the 2008 FEI Young Rider World Cup
Jessica Rhinelander to Represent Canada at the 2008 FEI Young Rider World Cup
Laura Noyes Wins U.S. Young Rider World Cup League and Goes to Frankfurt