British Dressage News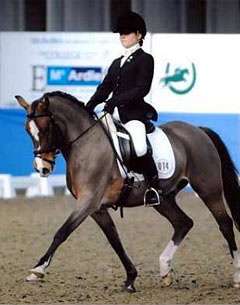 Following the recent pony viewing day at Solihull and the first training weekend at the Unicorn Trust, Gloucestershire, the selectors have chosen the following riders to be members of the 2008/9 pony training squad:
Claire Gallimore - Gigolo
Georgina Starkie - Pablo S
Natasha Leak - DHI Langar
Samantha Berry - Dance of Glory W
Fiona Wood - Berwode Nirvana
Laura Thyer - Holsteins Wellness
Kate Morgan - Dornroschen
Eliza Mason - Carina H
A number of other riders have been placed on the reserve list. When space permits, they will be invited to join the training weekends and may be upgraded to the squad, if their results are appropriate. All squad places are dependent on continued success and improvement and will be reviewed regularly.
Pony team trainer Peter Storr will be taking squad training weekends at the Unicorn Trust, Stow-on-the-Wold, on 6-7 December, 17-18 January, 14-15 February and 7-8 March. Training sessions will also incorporate video reviews, veterinary inspections and physiotherapy consultations for riders and ponies.
Selectors are considering sending riders to the following international shows:
8-11 Jan, Zwolle, NL
16-18 April, Addington Manor, GB
1-3 May, Saumur, FR
1-3 May, Moorsele, BE
7-10 May, Weert, NL
May (tbc), Le Touquet, FR
5-7 June, Bonn, GER
18-21 June, Freudenberg, GER
15-19 July, Pompadour, FR
The 2009 Pony European Championships will take place from 29 July to 3 August at Moorsele, Belgium.
New pony chef d'equipes Gill Hayler and Liz Mills have been appointed to take over from Sarah Outwin, who steps down after serving two years. Gill and Liz will share the position, which involves overseeing all the workings of the pony teams, attending training and viewing days as well as accompanying them to competitions at home and abroad.
Gill, from Writtle in Essex, is married to pony selector Paul Hayler. Their daughter Bobby has recently graduated from the pony team to compete at junior level. Liz runs Poplar Equestrian Centre in Norfolk with her husband Mark. Between them they bring a wealth of experience to the job.
Related Links 
British Pony Team Selected for 2006 European Championships
Harris, Bates, Cartwright, 2007 British Youth Rider Champions