What's Happening in the Dressage World?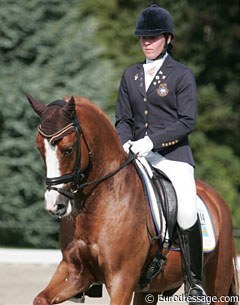 The chestnut FEI pony Tim has been sold to Anne Tange in Denmark. Tim was theindividual bronze medal winning pony under Elin Aspnas at the 2008 European Pony Championships. Elin's mom Johanna Aspnas sold Tim to the 14-year old Tange who has competed the smaller Kosmo Ike at international pony competitions. Elin is turning 17 in 2009 and is making the move to horses. Tim is a 12-year old Swedish Riding Pony by Hellekis Timjan out of a Amfral dam.
The breeding sensation of 2008, Quaterback, will not be competing at the 2008 Bundeschampionate in Warendorf next week. Quaterback (by Quaterman) qualified for the Bundeschampionate by winning the selection trial in Dallgow, but he won't be at the actual finals. Dr. Jürgen Müller, the breeding director at the Neustadt/Dosse state stud, told Eurodressage that, "we don`t start in Warendorf, because he has had a hard cover season in 2008." Quaterback was bred to 633 mares this 2008 breeding season. This number includes frozen semen inseminations.
On 29th August 2008, German dressage trainer Johann Hinnemann celebrated his 60th birthday. Congratulations!
Anky van Grunsven was honoured in her home town Erp for winning her third individual gold medal. Anky, Sjef, her kids Yannick Janssen and Ava Eden and her mother Grada were picked up at their home in a horse-drawn carriage and ridden to the town square accompanied by the local bass band. The mayor of the town, Peter Mangelmans, announced that Erp would get its own "Anky van Grunsven Street" so that in a hundred years people would wonder who Anky is. "And the people would say, 'the lady who was a damn good horse rider'," the mayor joked.
The Rothenberger family organised a summer garden party at their family home Gestut Erlenhof in Bad Homburg, Germany, on Saturday 30 August 2008 to celebrate the successes of their children Sanneke and Sönke Rothenberger. Sanneke became the triple gold medal winning rider at the 2008 European Junior Riders Championships in Portugal while Sönke won double gold at the 2008 European Pony Championships in Switzerland. The party was organized to the dot with drinks, food and entertainment for every one. There was a clown, a falconeer, a fantasy bird on stilts, karaoke, etc etc.
The Dutch Equestrian Federation announced that Imke Schellekens-Bartels' Sunrise will not be seen at competitions in the near future. The mare sustained an injury at the 2008 Olympic Games in Hong Kong and could not compete in the Grand Prix Special. The pair has returned home now and announced that the injury from Hong Kong is almost fully healed. The strained annular ligament is almost fully ok now, but there is also an acute injury to the cannon bone where there noticed a small tear and some fluid in it."That will take a few months of rest and walking," Schellekens regretfully announced. "But what is most important is that everything will be ok."
Departing British Dressage (BD) chief executive David Holmes received a fond farewell surprise party. Some 40 guests attended, including BD chairman Jennie Loriston-Clarke, BD directors, BD staff, BEF staff and British Show Jumping Association (BSJA) chief executive Jacky Wood. David starts his new job today, 1 September 2008, as the International Equestrian Federation (FEI) executive director of sport based at the FEI's headquarters in Lausanne, Switzerland, after nine years as BD CEO. Amanda Bond, former deputy principal and equestrian event director of Hartpury College, will take over from David part-time from 29 September and full-time from 9 November.
Some news from the U.S.A. We read that Grand Prix rider Suzanne Dansby-Phelps got married. She married Brooks Bollman in garden wedding and is dropping the last bit of her name. Suzanne will now be seen on the entry lists as Suzanne Dansby-Bollman. Congratulations.
Eurodressage has three tickets for sale to the 2008 Global Dressage Forum. They are full-entry tickets and include the two days program, documentary and catering. Eurodressage will be at the scene covering the forum as usual.