2008 Belgian Youth Riders Championships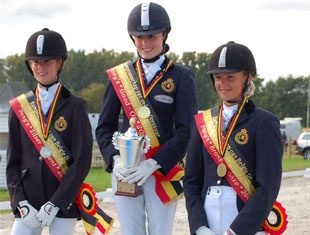 Julie van Olst, Mieke Mommen and Thibault Vandenberghe became the new Belgian Champions at the 2008 Belgian Youth Riders Championships in Wiekevorst, Belgium. Hosted on the premises of international dressage rider Wim Verwimp, the 2008 Belgian Pony, Junior and Young Riders Championships were blessed with good weather.
A special small tour championships was also organized, sponsored by Kees van Zwol.
These championships, which are also called "Summer Event" have been taking place at Verwimp Dressage Stables for years and are a fixed date on the Belgian dressage calendar.
In the pony riders class, 15-year old Julie van Olst won the gold medal with her New Forest Pony Haasendoncks Sultan. She won the first two qualifiers and placed second in the Kur to music. Her overall score of 214.434 points was enough to capture gold. The silver medal went to Jorinde Verwimp on the 16-year old German Reitpony stallion Tonkawa SD. Verwimp stayed closely on the heels of Van Olst and reigned in the Kur with a 74,150%. Her total of 213.958 slotted her in second position. Noemie Goris and the German Reitpony gelding Alexandra Dumas were solid in the team test and kur, but lost a few small points in the individual test. They totalled 208.661 and got the bronze.
In the junior riders' division, Mieke Mommen and the Belgian branded Rocky (by Rockwell) was the favourites for the title and fulfiled their roles as golden pair. The Diepenbeek based junior won all three rounds and claimed the gold with an almost ten point lead difference (204.850) to silver medallist Saidja Brison on Moliere (195.750). Former Belgian pony champion Magali Bastaens earned the bronze medal with her new mount Witze. She placed third with only few points behind Brison (195.450).
Seasoned youth rider Thibault Vandenberghe dominated the Young Riders classes. He won all three rounds aboard Decadent and got the gold with a total of 205.664. Vandenberghe improved day by day, scoring 64.664% in the team test, 68.300% in the Prix St Georges and 71,700% in the kur. The silver was for a new comer to the medal podium, Charlotte Helmsoortel on Worodin (196.739 points). The difference in level between the gold and silver and bronze medallists was big. Helsmoortel scored 65.289%, 63.200%, and 68.250%, while bronze medallist Kim Willems on Octavia landed third place (192.128 pts) with scores of 63.778%, 63.000% and 65.350%.
As always, national dressage championships are the perfect location for many judging frenzies, as if it does not matter for the judges to stay unanimous. Remarkble score difference of 5% (Paul d'Hoore, prix st georges: 67.50 (7th place) - 62,50 (28th place)), or even 6% (Caroline Ulrici, junior team test 59.50 - 65,25%) take place. It gets even worse and some riders are victim to incompetent judging. Grand Prix rider Patrick van de Meer scored 58,33% and 66,25% for his Grand Prix test and pony rider Julie van Olst got 72,25 from judge Imschoot and 64,75 from Van Cleempoel in the individual test. Detailed review of the scores reveal embarrasing discrepancies which should not take place at a national dressage championship.
Related Links
Scores 2008 Belgian Dressage Championships
Eurodressage Coverage of the 2008 European Pony Championships
Eurodressage Coverage of the 2008 European Junior/Young Rider Championships