2008 Olympic Games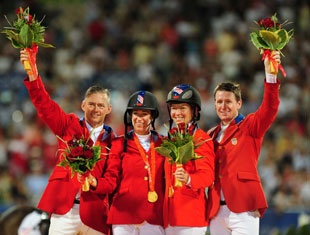 The USA pipped Canada for team Jumping gold in a thrilling third-round jump-off at Sha Tin Stadium in Hong Kong tonight (Monday). And Norway climbed all the way up from overnight joint-sixth place to take bronze thanks to a spirited team performance.
The Swiss had to settle for fourth ahead of Germany and The Netherlands in joint-fifth while Great Britain, down to just three team-members due to the loss of John Whitaker and Peppermill, finished sixth. As Swedish luck ran out, they plummeted from third to eighth while the Australians slotted into ninth place but the Aussies, also with just three in their side, fought a tremendous battle after pathfinder Peter McMahon broke his collarbone in a fall in the practice ring.
To take a medal with just three riders however is a remarkable feat by any measure. Team Canada's day began with the news that Mac Cone's horse, Ole, would be withdrawn as he was unsound, but nothing was going to kill their hunger for a share of those Olympic medals. "The odds are that you have no chance with a team of just three but you gotta try," said Canadian hero Ian Millar tonight, and try they did, to the very end.
TENSION
There was huge tension in the British camp right up to the start of the competition as they awaited the Appeal Committee decision in relation to John Whitaker's participation. Whitaker's 11-year old stallion was withdrawn yesterday because he was stiff and uncomfortable, but was considered fit for duty again today. And when the Ground Jury met this morning (Monday) at 11am to consider a request from the British team, it was agreed that the horse and rider could compete in tonight's second round of the team event. 
However seven of the nine qualified teams then lodged a protest following which the Ground Jury upheld its earlier decision but when the teams formally launched an appeal to the Appeal Committee who met at Sha Tin at 4pm local time today the objections were upheld and the British rider was declared ineligible to jump.
The rule which was applied was Article 264.4 from the FEI Rules for Jumping Events which states that "a full Nations Cup team comprises four competitors each riding the same horse throughout the competition. All members of each team must take part in the first round, except as stated in paragraph 4.2 below and in paragraph 7.2". Paragraph 4.2. states that "if a team, comprising four competitors, cannot improve its placing in the first or second round after its third competitor has completed his course, the fourth competitor may be withdrawn". A clear or four-fault round from Whitaker yesterday would have improved the British result.
A 13-fault opening effort from Nick Skelton and Russel put the final nail in the British coffin as the competition got underway tonight.
THE TEST
Another track full of questions and surprises faced horses and riders once again - Leopoldo Palacios and Steve Stephens presenting them with flair, colour and creativity.
A left-hand turn after the opening vertical led to the triple bar followed by a dog-leg to the 1.50m white oxer at three and then a check of control and positioning at the skinny, snaky planks at fence four. A left-hand bend to the vertical at five was followed by another big question over the first of the three doubles on the track - would horses be distracted by the liverpool water-trays under both the opening oxer and the vertical second element? Now the pressure was full-on with acceleration required on approach to the narrow open water - 4.10m wide - with just four good strides to the next double, vertical to vertical, at fence eight. This would prove pivotal. A turn-back to the oxer at nine, a right bend to the planks at 10 and a left-hand turn brought horses down the final line. And here the brightly-coloured wall at 11 was followed by a double of oxers at 12 and then, on a curving line, the final vertical at 13.
"It's a difficult track - it was very technical yesterday and even more so today," said Belgium's reigning World Champion Jos Lansink whose stallion Cumano is clearly really enjoying his jumping again after a long lay-off due to injury. "The course builder is using the water fences very cleverly," he pointed out after putting in one of the earliest tours of the course, picking up just two time faults. "The water is going to be a problem for a lot of riders," he added, and he was quite correct.
A GOOD START
The first-day joint-leaders from the USA made a good start when McLain Ward's only mistake with Sapphire was at the water, and when Laura Kraut's Cedric put in a spectacular clear they were looking very strong indeed. "Tonight he was completely relaxed," Kraut said afterwards. "We had a mix-up in the practice ring when he thought a shadow was a groundline but things like that don't bother him, it just made him more attentive, and he felt amazing in there. My biggest worry was about the liverpool double but he soared over it. It's hard to believe how much he has come on over the last year. In May 2007 we jumped in the Super League in Rome and it was too much for him but he has decided to peak at the right moment - I'm thrilled with him," she pointed out.
The joint-leaders from Switzerland however were in trouble right away. Pathfinder Christina Liebherr had a nightmare ride with No Mercy who lived up to his name when dragging her at break-neck speed around much of the track and, having hit the oxer at three, put a foot in the water and lowered the oxer at nine she had to pull up in front of the second element of 11 before circling to finish. "He is either a genius or a crazy horse, and today he was a crazy, crazy horse," the rider said in resignation after putting 23 faults on the board.
Team-mate Pius Schwizer meanwhile made an amazing recovery when Nobless M threw in an objection on the approach to the vertical at five, and did well to complete with just five faults this time out.
All eyes were on the Germans who, so surprisingly, were trailing the field after yesterday's opening round but any hope of a rapid climb up the order would be halted by 19 faults for Marco Kutscher when, in an effort to take a sharp check after a strong ride to the water, he stopped Cornet Obolensky in his tracks. Clearly unsettled, the handsome stallion completed, dropping several fences on his way home.
RISING
The Australians however were really rising to the challenge and Laurie Lever's excellent four-fault effort with the brave Drossel Dan was followed by a fabulous clear from Edwina Alexander and Itot du Chateau. If last man in, 23 year old Matt Williams, could hold it together they would be challenging for a medal at the end.
Lying fourth overnight, the Norwegians were also making good progress despite a 12-fault result from pathfinder Stein Endresen when Morten Djupvik and Casino lowered only the second element of the double at fence eight and Geir Gulliksen picked up just five with Cattani. The Dutch were unable to make any real headway, eight faults for Angelique Hoorn and O'Brien and a good five-fault round from Marc Houtzager and Opium followed by an unhappy 27 from Vincent Voorn and Alpapillon-Armanie. And the Swedes, in overnight third, were fading fast too, Peter Eriksson's good opening four-fault result with Jaguar Mail followed by 20 from Lotta Schultz and Calibra and 17 for Helena Lundback and Erbblume - they couldn't claw their way back from there.
The Canadians however were blossoming under pressure - Jill Henselwood paving the way with a superb clear, one of just five on the day, from the aptly-named Special Ed and Eric Lamaze keeping them right in the game with just a single mistake, at the second element of the penultimate double, with the big-jumping Hickstead. And as it came down to the closing stages it was clear that the weight of Canadian responsibility would fall on the mature shoulders of nine-time Olympian Ian Millar.
The line-up was already taking shape, the Germans finally finished off when Ludger Beerbaum's All Inclusive stopped when the partnership could not find the distance from the water to the following double to complete with six faults while Australian hopes were finally dashed by 17-fault round from Matt Williams. "I did too much with my horse in the warm-up, and halfway around the course I paid the price," the young man said philosophically.
A GREAT DEAL
The Dutch just couldn't stay afloat despite just a single error for Gerco Schroder and Monaco but Norwegian anchorman Tony Andre Hansen produced another fabulous round with Camiro. Hansen has been training with former Irish rider Gerry Mullins for the last six years and he has honed to skills to great effect over the past 12 months - his one time-fault the only addition to the Norwegian scoreline. "I want to thank Gerry a lot," he said today, "he pushed me and pushed me and here we are now - I owe him a great deal," he added.
It was clear that Norway would now take bronze but it took a foot-perfect round from Ian Millar to secure the Canadian position and, if Beezie Madden could leave all the fences up when last to go with Authentic then the Americans would take gold ahead of them. But a foot on the tape at the bogey water ensured a jump-off instead, both teams now sharing a total of 20 faults apiece.
You could cut the air with a knife as McLain Ward led the way in the third and final round, throwing down the gauntlet with the coolest clear from Sapphire over the new track which asked for a strong gallop to the new final oxer, and when Henselwood hit the wall, now fence two, the Canadians began to look vulnerable. Laura Kraut piled on the pressure with an amazing ride with Cedric who also left the fences intact but Lamaze pulled it back for Canada when producing the quickest time, 36.35 seconds, with Hickstead. If Will Simpson made a mistake then it would all fall back on Millar again, but a powerful clear from Carlsson Vom Dach sealed the deal - it was all over and the US held that precious gold while the Canadians had to do with silver.  That wasn't really a problem for them though, because they have waited a long, long time for this.
HISTORICAL
It was an historic Canadian moment because they have not held an Olympic medal since Tom Gayford, Jim Day and Jim Elder took gold in Mexico City in 1968 - a full 40 years ago. And at 61 years of age, the record-breaking Ian Millar was very happy with tonight's result. "I've been riding on Canadian teams for 39 years" he said, "and there have been a lot of good days but the Olympic Games have never gone my way so to be part of this is remarkable. I want to say thanks to my great team and horses and to the team that have been behind us all," he added.
"When Mac's horse was out this morning it didn't seem like we had any chance of a medal, and then Jill inspired us all with her great ride. She left us no choice but to have a real go - she set the standard and we had to follow" he explained. And, even though he will be 65 when the next Olympic Games are held in 2012, he is looking forward to it already. "I'm going to try again for London - I've picked out the horse already!" he said. 
The Norwegians meanwhile were relishing their bronze, a first-ever Jumping prize for their country which has not taken part in the equestrian Olympic contest since 1992. "When we qualified at the Europeans last summer we didn't really believe we could go this far - you dream that it might happen but this, to us, is as good as winning gold!" said Stein Endresen.  "Finally we have a team riding at the same level at the same time - and the team spirit has been unbelievable" said Hansen while team manager, Sylve Soderstrand, added with some satisfaction "the team have stuck to the plan we made two years ago, and that is why we are here today."
The Americans meanwhile were looking happy if a little stunned and Laura Kraut admitted that the whole of the final sequence of events had taken her by surprise. "I was a bit dazed and confused going into the jump-off, we weren't really sure it was going to happen until the last minute and our horses were already going back to the stables - there was no time to think about it. I just knew, going in, that I needed to be clear and fast and it just turned into our night - the Canadians made us work for it though!" she pointed out. 
"I was sorry because I made my team jump in the jump-off - I should have sealed it in the second round, but I'm glad how it worked out" said Beezie Madden. Team manager George Morris was looking pretty pleased too, because it had worked out just fine.
An American triumph, a Canadian moment to remember and for Norway the reward of commitment and the willingness to work together to make the impossible dream into a reality.
Photo courtesy: Diana DeRosa
Back to the 2008 Olympic Index