2008 Olympic Games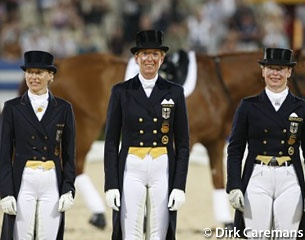 As expected after yesterday's first session, it was the Germans who claimed Dressage team gold at the Sha Tin Olympic Stadium in Hong Kong tonight (Thursday), with victory sealed by an emphatic test from Isabell Werth and Satchmo in the closing stages.
The Netherlands had to settle for silver while Denmark earned their first-ever Olympic dressage team medal when taking bronze. And the Americans, compromised by a below-par performance from Debbie McDonald and Brentina who simply failed to show their sparkle, finished just outside the medal zone in fourth ahead of Sweden in fifth and Great Britain in sixth.
Werth's mark of 76.417% was earned with a near-flawless display that oozed confidence and determination and put her at the top of the individual leaderboard, but she put her country's success down to just one thing - "the whole team really pulled together, we were working for each other and supporting each other. I'm really happy and it's very exciting because a lot of people didn't believe in us after the European Championship last year but we really proved ourselves today!" she said.
TARGET
German spirits had already been lifted by Heike Kemmer's first-day leading score of 72.250% and that continued to be the target in the early stages tonight when Spain's Juan Manuel Munoz was first into the arena with the high-stepping stallion Fuego who registered a mark of 66.083%. It was Denmark's Nathalie Zu Sayn-Wittgenstein who first broke the 70.000 mark however when her lovely Danish Warmblood gelding Digby showed fabulous piaffe and passage along with correct canter-work, and when they put 70.417% on the board, the Danes were very definitely on the rise.
In order to capitalise on Kemmer's first-day advantage it was always going to be essential that Germany's second rider, Nadine Capellmann, kept the pressure on with a good result from Elvis and she did not disappoint although she was critical of her own performance. "I was not pleased with the piaffe but in general it was good although there were some small mistakes. It could be that I was trying for too much and in the end I got less. My first mistake was in my first extended trot," she explained after scoring 70.083%.
DEVASTATED
She wasn't the only one who thought she could have done better; America's Debbie McDonald was devastated by her performance with the 17-year old Brentina who seemed to struggle all the way through. "I don't know what to say, I just feel awful, I know I've finished the team," she said after the judges awarded her a mark of 63.000%. "It felt terrible and I knew when we got to the pirouettes it was just a bad day. She was much different in the warm-up - it took me by surprise as much as anything else," she added, looking shocked and distressed.
Everyone wondered if Anky Van Grunsven could pull the Dutch back into the game with one of her dazzling displays of brilliance with Salinero but when she recorded a mark of 74.750 to take the individual lead it was clear that The Netherlands were unlikely to stay far enough ahead to claim the ultimate prize. "I couldn't take all the risks," she said. "I almost wanted to do too much but I had to be safe for the team – in the Grand Prix Special and the Kür I can take risks - this was not the time," she explained.
"After yesterday we already forgot about the gold medal," she pointed out. "The first two results from Holland were just not good enough but the draw didn't help although on the other hand we should have had a better performance and another country was better than we were," she added. "It's not the end of my life," she continued, "although I am disappointed". And she said that this will probably be her last Olympic appearance as she wants to take more time with her children and retirement may be on the cards. "I am getting older and I have already been spoiled with two unbelievable horses. Unless somebody offers me another wonderful horse I cannot see myself going to London," she explained. But she's not quite finished here in Hong Kong yet - "I still have a very fresh and strong horse," she said, looking forward to the individual medal challenge ahead.
RETIRED
Meanwhile Portugal's Miguel Ralao Duarte had to retire when his 13-year old mare Oxalis became totally uncooperative in the ring while Great Britain's Laura Bechtolsheimer was doing nicely with Mistral Hojris until the judge's bell rang to tell her she had made a mistake in her test and she subsequently fell apart. "My horse offered my everything," the deeply disappointed 23-year old said, "but I let him down".
Japan's Hiroshi Hoketsu was looking very good indeed until his mare Whisper suddenly caught sight of the dreaded big screen and took fright, badly spoiling his test, but Finland's Kyra Kyrklund and Max put in a balanced and focused performance to earn 70.583 which was always going to keep her in the frame. "I'm very pleased because for three days Max had a high temperature and I had to wait and see if he would come right," she explained. "However for the last few days he felt better and I thought he could be competitive again although he was almost too fresh tonight!" she added.
CHARMING
As the competition began to draw to a close Russia's Alexandra Korelova and the lovely grey stallion Balagur charmed the crowd and pleased the judges enough to gain a mark of 68.500. The girl who hails from central Russia knew that she and her special horse had done a good job. "His breeding is Orlov trotter and I have been riding him for six years," she explained. However his appearance at Olympic level is quite something because he never performed a Dressage test until the age of 11 when he was bought by Alexandra from the local police force where he was used for crowd control and street policing. "Tonight I think he felt like he was doing crowd control again because he didn't want to walk and was looking around the stadium but then he settled and I was very pleased with how he went," said the rider who has trained with George Theodorescu and most recently with Monica Theodorescu and who believes that her very cute 18-year old horse still has plenty of competition years ahead of him - "he feels like a five year old!" she insisted. 
FATE
But all eyes were on Isabell Werth who, second-last to go, knew that the fate of the 2008 Olympic team Dressage gold medal lay in her hands. And she rose to the occasion with grace and poise, delivering a test that was filled with power, impulsion and precision. "Heike gave us a positive base from which to start and then Nadine did a good test too so I knew it was important to be safe and that I could not afford to make a mistake," Isabell said afterwards. "I went in with a really good feeling because the other riders had done a good job but it was a lot of pressure because last year we lost gold to The Netherlands at the Europeans and we knew it was time to wake up - we didn't like it!" she said. And Kemmer pointed out "the Netherlands and Germany are partners really because we fight against each other and it makes great sport but outside the ring we can drink a glass of champagne together!". 
For the second time this week the champagne corks are popping, not just in Hong Kong, but all over Germany as Isabell Werth, Nadine Capellman and Heike Kemmer scooped their country's tenth Olympic team dressage title in the finest of style. With this success added to the team and individual Eventing gold won earlier in the week, can anyone stop the Germans from making a clean sweep of the equestrian medals at the 2008 Olympic Games?
FEI Press release
Back to the 2008 Olympic Index