2008 European Junior and Young Riders Championships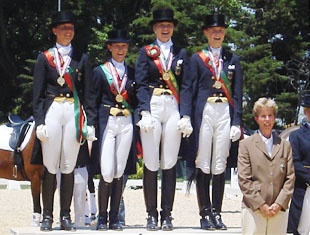 Germany won the team gold medal at the 2008 European Junior Riders Championships in Azeitao, Portugal, July 17, 2008. The German Junior Riders team withstood the Dutch opression (213,700 points) with force and won the nations' cup with 2,750 percentage points advantage.
Especially the contributions of Sanneke Rothenberger and Louisa Luttgen led them to team gold (total 216,350 points). These juniors, who officially made the transition from FEI pony level to junior riders level this year, placed first and second in the team test with 73,650% and 73,550%.
Sanneke Rothenberger won the class aboard the Dutch branded but German bred Paso Doble (by Don Primero), who did make a few mistakes in the rhythm but for the rest was faultfree in his test. Louisa Luttgen rode top scores aboard the delightful Oldenburg mare Dreamy (by Donnerhall) who is bred in Denmark by Dorthe Jeppesen of DMJ Horses and purchased by the Luttgens as a youngster at the Oldenburg Elite Auction. The third German was Esther Rolfs on Rewano placing sixth with 69.15%. Their scratch score was Thea Felicitas Muller's 68,100%
Strongest Dutch combination was the 2008 Dutch junior champion Marjolein Cho Chia Yuen on Cho's Pepper (by Pablo). Coached on the scene by her steady trainer Anky van Grunsven, Cho finished third on 71,650%. Coby van Baalen's student Angela Krooswijk ranked fourth on Coby's and Johann Hinnemann's Westfalian licensed stallion Roman Nature (by Rohdiamant). The pair achieved 71,100%. Third Dutch rider was Michelle van Lanen on veteran 18-year old Dutch warmblood gelding Incredible (by Voltaire). The judges differed in their judgement of this combination with judge at C, Bernard Maurel, placing her 11th (67,500%) and judge at B, Katharina Wüst, ranking her second (73,000%). Her overall score was 70,900%.
"I'm very happy," Dutch chef d'equipe Tineke Bartels said. "The German juniors just have two better horses, because it wasn't for the riding that we lost the gold."
The Danish junior riders team scored the bronze medal (200,850 points) and were ecstatic with their accomplishment. The best riding Dane was Camilla Orloff on the Danish bred Maneur (by Schwadroneur). She secured an 8th place with a 68,400 % score. Rikke Bollingtoft and Domingo Kilen (by Dorpas x Royal Z) placed 11th with 76,500%.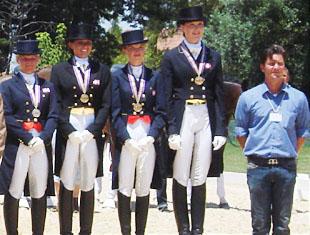 Danish team veterinarian and chef d'equipe Hans-Christian Mathiesen was very happy with this achievement. "Everything went so well, that I'm honestly delighted," Matthisen commented. "We had some problems to start up everything after the long journey [3000 kilometers]. Some of the horses has some fever and one caught a bite wound during transport. But everything came together despite the heat. It's really hot here and we constantly run from shade to shade."
The Austrian Junior Riders Team landed a fourth place with the best performance coming from Florian Lorenz on Eloise Flori on day 1 of the competition. Lorenz scored 67,100 % with his bay Ehrentusch mare and placed 12th. Timna Zach and her gray Vincidor slotted in 15th with 66,500. Nicole Berghofer and Shakespeare C followed in 18th place with 66,200 %.
The British Junior Riders team placed fifth, only a little more than three percentage points away from a bronze medal. Leading Brit Rebecca Drane and Half Moon Bardolino (18th), Keri Bates and Donna Parina (22nd) Melissa Bates and Celestial King (23rd) and Alexandria Barr and Don Perry (34th) finished a creditable fifth out of 11 teams. This was Rebecca's first time on a British team and it is her last as a junior. "She was magnificent, particularly as she is so inexperienced," said junior Chef d'Equipe Islay Auty of Rebecca, who has regular help from Judy Harvey.
"We were fifth by the skin of our teeth," Auty said. "We had several horses who suffered from the four-day journey here in the intense heat and needed careful veterinary treatment, including fluids. It was nearly 40°C at the end of the team competition day and Don Perry was certainly still suffering the after-effects of the journey and ran out of steam towards the end of the test."
Back to the 2008 ECJYR Index