2008 World Championships for Young Dressage Horses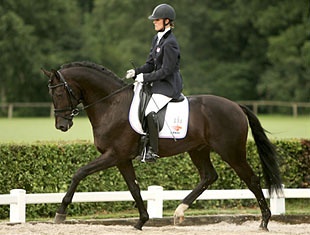 The KWPN society reported that no changes will be made to the selection of the Dutch Horses for the 2008 World Championships for Young Dressage Horses in Verden, Germany, July 31 - August 3, 2008.
The current short list will also be the definite team for Verden as no horses will be added to it.
After the second training session/selection trial, the selection committee decided that the short listed horses will remain selected and can return to a further training session on July 7, 2008.
Three horses, however, might drop from the Dutch list as their riders, Imke Schellekens and Hans Peter Minderhoud will be in Hong Kong for the 2008 Olympic Games. Imke's Voice (by De Niro x Rohdiamant) and Minderhoud's Vivaldi (by Krack C x Jazz) and Johnson (by Jazz x Flemmingh) are in principle selected for Verden.
"If for any reason, something might happen to the Olympic horses -- but of course we hope not -- than Imke and Hans-Peter are more than welcome on the Dutch World Championship team," said Wim Ernes, the president of the selection committee.
These three horses will not participate in further trainings and no reserves are invited to take their place. "We have selected the best horses and have high expectations that this group will make a stand at the World Championships in Verden," Ernes added.
The current Dutch World Championship team includes:
5-year olds
Welt-All (Diamond Hit x Negro) – Theo Hanzon
Westenwind (Flemmingh x Contango) – Emmelie Scholtens
Westpoint (Jazz x Michelangelo) – Emmelie Scholtens
Winoa (Jazz x Flemmingh) – Bart Veeze
Wolly Ann (Stravinsky xx x Ulster) – Christa Laarakkers
Wonderboy (Ramon x Nimmerdor) – John Tijssen
Wynton (Jazz x Matador II) – Madeleine Witte-Vrees
6-year olds
Citango (Contango x Jazz) – Nars Gottmer
Valentino S (OO Seven x Contango) – Isabelle van Zaanen
Veni Vidi Vici (Krack C x Amsterdam) – Marije Tromp
Vivaldo (Polansky x Montecristo) – Mirelle van Kemenade-Witlox
Vontango-B (Contago x Jazz) – Madeleine Witte-Vrees
Photo courtesy: www.vwf.nl
Back to the 2008 WCYH Index