2008 Bundeschampionate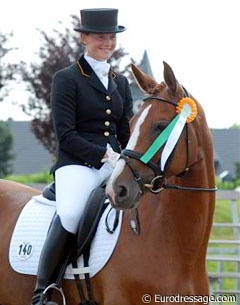 At the 2008 Rhineland Dressage Championships, two qualifiers for the Bundeschampionate were held. Two mares, Femke and Diamantenbörse, pulled out all the stops and won the 5 and 6-year old Dressage Horse class.
Young rider Carlotta Söffing won the 5-year old division aboard the Rhinelander branded Femke, a chestnt mare by Farewell II out of a Belgian warmblood bred dam by Lys de Darmen. They won the class with 7.5, a score not high enough to qualify for the Bundeschampionate. Femke's trainer Heiner Schiergen placed second aboard Donna Carina, a Hanoverian mare by Don Marcello out of a Cordoba dam. They scored 7.4.
In the 6-year old division, Jessica Süss and the Oldenburg mare Diamantenbörse (by Diamond Hit x Rubinstein) reconfirmed their top quality potential by winning with 8.6. The pair has already qualified for the Bundeschampionate at the Neuss-Grefrath qualifier, but they proved to be in form one month later. The chestnut mare is owned by the Luttgen family and she will also represent Germany at the 2008 World Championships for Young Dressage Horses in Verden, Germany, July 31-August 3, 2008.
2006 European Pony Champion Lydia Camp has been struggling internationally to make it as a junior rider, but she's been having great successes as a young horse rider in Germany. With the Trakehner stallion Kasimir (by Ivernel x Charly Chaplin), she scored 7.8, placed second and earned her ticket for Warendorf. Marlies Brakemper and the Westfalian mare Flower Power (by Furst Heinrich x Festivo) ranked third with 7.6.
Photos copyrighted: Barbara Schnell
Results
5-year old Dressage Horses
1. Femke - Söffing,Carlotta - 7.50
2 Donna Carina - Schiergen,Heiner - 7.40
3 Rihanna - Zimmer,Sylvia - 7.30
4 Otto's Welthit - Meinecke Zagers,Thomas - 7.20
5 Fulminant - Peeters,Carsten - 7.10
6 Laurenziano - Haller,Claudia - 7.00
6 Right in Time - Schmitz-Heinen,Wolfgang - 7.00
8 Love at First Sight - Kemenade-Witlox,Mirelle van - 6.60
9 Lord of Lauries - Bräutigam,Deike - 6.00
10 Eva - Veerbeek,Katrin - 5.80
6-year old Dressage Horses
1. Diamantenbörse - Süss,Jessica - 8.60
2 Kasimir - Camp,Lydia - 7.80
3 Flower Power - Brakemper,Marlies - 7.60
4 Emantino - Peeters,Carsten - 7.50
4 Salazar AV - Hesse,Geertje - 7.50
6 Mayong - Camp,Katja - 7.30
6 Wise-Guy - Unger,Anke - 7.30
8 Fazzino - Unger,Anke - 7.00
9 Dandelo - Peeters,Carsten - 6.90
10 Leonie - Hottgenroth,Katrin - 6.70
10 Sunny Day - Zimmer,Sylvia - 6.70
Back to the 2008 Bundeschampionate index