2008 Olympic Games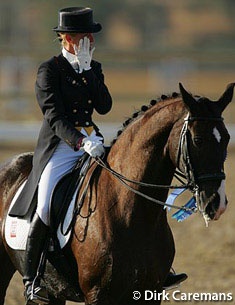 Dutch Chef d'Equipe Mariette Sanders has communicated that seven Dutch owned dressage horses will go into quarantaine for the 2008 Olympic Games.
Besides the four team horses, three more will stay in Wilco van Grunsven's quarantaine stable before lift-of to Hong Kong.
Anky van Grunsven's Salinero, Imke Schellekens' Sunrise, Hans Peter Minderhoud's Nadine and reserve horse Adelinde Cornelissen's Parzival will be joined by extra reserve horses Painted Black (Van Grunsven), Nimbly (Alex van Silfhout) and Next One (Edward Gal). Laurens van Lieren's chestnut gelding Ollright will not go into quarantaine due to an injury.
Four years ago, two of the Dutch team horses -- Edward Gal's Lingh and Antoinette Falandt's Jarwo -- got injured just prior to the 2004 Olympic Games in Athens and had to be replaced last minute by reserves. Sanders does not want to run the risk that no reserve horses are available. Quarantaine for the Dutch horses starts on 17th July 2008. They fly to Hong Kong on 25th July 2008 and return from the Games on 23rd August 2008.
Photo copyrighted: Dirk Caremans
Back to the 2008 Olympic index