2008 Italian Dressage Championships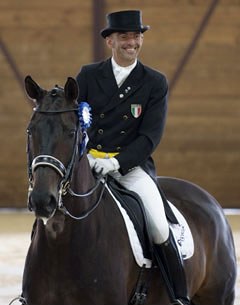 Pierluigi Sangiorgi won the 2008 Italian Dressage Championships held at the La Mandria CDI-PJYR in Turin, Italy, June 13-15, 2008. Aboard the Italian bred stallion Flourian (by Savoy x Sultano II), Pierluigi won the first round, Intermediaire II with 66,341% and placed second in the second round Grand Prix with 65,875%. Pierluigi's grand total was 132,216%, one percentage point higher than silver medallist Anna Paprocka Campanella.
The 40-year old, Ravenna based "Piero" Sangiorgi is coached by Connie Antrobus and occasionally trains with Hubertus Schmidt. 2008 is a great year for this Italian rider as he has won his second national Grand Prix dressage title (first in 2006) and he will also represent Italy at the 2008 Olympic Games in Hong Kong as sole rider for his country. He is also the official Italian pony team trainer.
"Flourian is an Italian horse without papers. He had done show jumping with little conviction and scanti results," Sangiorgi said. "When I first saw him I immediately fell in love with him and his results today speak for themself. We soon leave for Aachen in view of the Olympics."
The silver medal went to Anna Paprocka-Campanella on her new Grand Prix horse, Prego. Campanella finished third in the Inter 2 (64,634%) and won the Grand Prix (66,583%). Her 11-year old Dutch warmblood stallion by Zazou x Ulft is bred by the late Els Jansen of Resim Dressage who trained him to FEI level. Campanella and Prego started training with Hubertus Schmidt six weeks ago and are already reaping the fruits of their efforts with this silver medal.
"I wish I could say "thank you" to Els Jansen, who was his breeder and rider and as you know died last year," Campanella told Eurodressage. "After having had such a top horse as Andretti, I did not expect to have an opportunity to ride another horse with such big potential. He is incredibly relaxed in everything he does. It was only the second competition I did with him."
The bronze medal went to Valentina Truppa on her second horse Corallo Nero. The pair ranked second in the Inter 2 with 65,171% and third in the Grand Prix with 63.83%. Their overall score slotted them in third place, good for the bronze medal. Carabiniere Truppa's Corallo Nero del Castegno is by Sherwood x Landadel.
Photo courtesy: Matteo Lelli
Results 2011 Italian Dressage Championships
Grand Prix Riders - Round 1 - Intermediarie II
1. Pierluigi Sangiorgi - Flourian - 66,341%
2. Valentina Truppa - Coralla Nero - 65,171%
3. Anna Paprocka Campanella - Prego - 64,634%
4. Ester Soldi - Lobtonice - 62,732%
5. Roberto Brenna - Ampara (aka Arabella) - 60,878%
6. Maria Puccini Fausto - Del Mare - 59,366%
7. Cristina Pilella - Leadman - 58,829%
Gianna Baiocchi - Weimar vF - ELI
Grand Prix Riders - Round 2 - Grand Prix
1. Anna Paprocka Campanella - Prego - 66,583%
2. Pierluigi Sangiorgi - Flourian - 65,875%
3. Valentina Truppa - Coralla Nero - 63,833%
4. Cristina Pilella - Leadman - 62,167%
5. Roberto Brenna - Ampara (aka Arabella) - 60,792%
6. Norma Paoli - Goldamos - 60,417%
7. Ester Soldi - Lobtonice - 57,750%
8. Maria Puccini Fausto - Del Mare - 57,083%
Gianna Baiocchi - Weimar vF - DNS
2008 Italian Championships - Grand Prix Riders
1. Pierluigi Sangiorgi - Flourian - 66,341% - 65,875% --- 132,216%
2. Anna Paprocka Campanella - Prego - 64,634% - 66,583% --- 131,217%
3. Valentina Truppa - Coralla Nero - 65,171% - 63,833% --- 129,004%
4. Roberto Brenna - Ampara (aka Arabella) - 60,878% - 60,792% --- 121,670%
5. Cristina Pilella - Leadman - 58,829% - 62,167% --- 120,996%
6. Ester Soldi - Lobtonice - 62,732% - 57,750% --- 120,482%
7. Maria Puccini Fausto - Del Mare - 59,366% - 57,083% --- 116,449%
2008 Italian Championships - Junior Riders
1. Chiara Biliotti - What's Up - 65,200% - 66,450% --- 131,650%
2. Charlotta Lindsten - Escobar - 64,200% - 65,750% --- 129,950%
3. Virginia Maghenzani - Flori - 61,800% - 64,650% --- 126,450%
4. Maria Maddalena Zambaiti - Wild Wadi - 61,900% - 61,550% --- 123,450%
5. Melania Canton - Albion - 54,350% - 57,850% --- 112,200%
2008 Italian Championships - Young Riders
1 Federica Scolari - Beldonwelt - 65,956% - 65,850% --- 131,806%
2. Riccardo Sanavio - Uson van Essene - 64,756% - 65,950% --- 130,706%
3. Micol Rustignoli - Konkorde - 64,267% - 65,650% --- 129,917%
4. Fabiola Puccini Miccone - Ruben Royal - 64,356% - 64,500% --- 128,856%
5. Carlotta Canevese - San Planina - 61,911% - 60,150% --- 122,061%
Related Links
See Sangiorgi's winning ride on Dothorse.it
Andretti Sold to Laura Bechtolsheimer
Italian Team Selected for the 2006 World Equestrian Games
Anna Paprocka Wins the 2006 Italian Freestyle Championships