2008 Olympic Games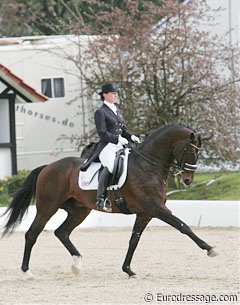 A hot battle is going on for the third spot on the British Dressage Team for the 2008 Olympic Games. Laura Bechtolsheimer is safe, being Britain's highest scoring rider of the moment, and Emma Hindle just confirmed her number two spot amongst British Grand Prix riders
at the CDI Steeg. The third spot, however, is still undecided but Jane Gregory seems to be getting closer and closer to that place with the high sixty percentage scores she's been achieving all across Europe.
German-based Emma Hindle and Lancet produced the best British results at the CDI De Steeg, also known as Outdoor Gelderland, in Holland, 4-8 June 2008. Team contender Emma took fourth place in the grand prix special with 70.96% having finished sixth in the grand prix with 71.083%.
"He was great. Now we'll have to see what happens in Rotterdam [18-22 June] and Aachen [1-6 July]," she said.
Carl Hester competed in the same tests with Lecantos, moving up to fifth place in the special after finishing 13th in the grand prix. Carl has been preparing both Lecantos and Dolendo for Olympic selection. Unfortunately a recurring injury to the 17.2hh Dolendo has flared up, which will rule him out for selection. Carl will continue his campaign with Lecantos, joining Emma, Jane Gregory and Laura Bechtolsheimer in Rotterdam.
Jane Gregory and Lucky Star High Point Champions at CDI-W Lipica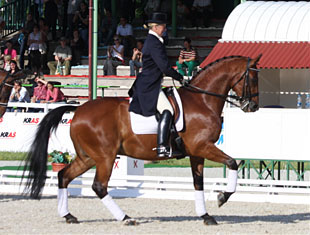 Jane Gregory and Lucky Star took the runner-up slots in both the grand prix and FEI World Cup qualifier at Lipica CDI-W in Slovenia, 5-8 June 2008, thereby becoming the show's overall points champion. Jane also achieved her highest ever score with the 16.2hh 16-year-old Danish-bred gelding, 72.85%, in the World Cup freestyle test.
She said: "It was a nice bonus to have the best horse in the show. He felt so solid and secure. We only made one tiny mistake in the grand prix when he changed behind in the extended canter, which was my mistake as I was too bold."
Jane's recent run of success has propelled her into eighth place in the British Dressage Grand Prix Rankings and she will be continuing her campaign at Rotterdam CDIO, 18-22 June.
British riders took the next two places in the World Cup qualifier. Anna Ross-Davies, who was voted British Dressage Personality of the Year 2008 last weekend, rode Liebling II into third place after an uncharacteristicly low score in the grand prix, where they finished 10th.
"The scoreboard gave a running total and he was up to 73% in the grand prix until he got too excited and we lost both pirouettes. He is only 11 and this is only our second grand prix season, so I can forgive him that," said Anna.
Anna, who achieved the best British score at the European Championships last year after starting out as reserve, unveiled her new freestyle with the appropriate soundtrack "The Time of My Life" from the film Dirty Dancing.
"I have two different ground patterns for this freestyle, one safe one and one with a spectacular ending. I decided to go for the safe option and was delighted with our first attempt," said Anna, who is planning to contest the World Cup series this season.
Wayne Channon and Lorenzo CH, who won this class last year, scored 71.7% to take fourth place.
Source: British Dressage
Photo copyrighted: Astrid Appels/Eurodressage.com 
Back to the 2008 Olympic index