2008 Bundeschampionate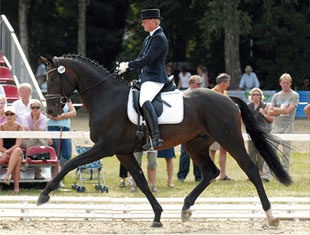 Diamonit, Well Done and Furst Khevenhuller became the winners of the BuCha qualification classes at the Haftenkamp Horse Show, one of the biggest Bundeschampionate qualifiers of the year.
A huge entry field of five-year olds had to be split into two groups to accommodate the class for the show. In the 5-year old Dressage Horse Division Group 1, Paul Schockomohle's in-house rider Anja Engelbart topped the leaderboard with Tony Pidgley's Oldenburg licensed stallion Diamonit (by Diamond Hit x Santander). The elegant dark bay stallion scored a staggering 8.9 and ranked almost one full point ahead of second placed Jan Dirk Gießelmann with Flavio K on 8.0. Two riders tied in third place with a 7.8 score. Marco Buhrig aboard Delgardo M (Depardieu x Caprimond) and Johannes Westendarp on Di Baggio (Dimaggio x Weltmeyer).
The Wallenhorst based Westendarp became the winner of the 5-year old Dressage Horse division group two. Riding the Oldenburg gelding Well Done (by Wolkentanz II x Lord Liberty G), Johannes scored a strong 8.2 mark. Hof Kasselmann's rider Insa Hansen placed second with King Size on 7.9, while Heinrike Sommer slotted in third on Rubinio B on 7.8.
The 6-year old Dressage Horse division was won by the 2007 5-year old Bundeschampionate champion Furst Khevenhuller. Helen Langehanenberg steered Sissy Max-Theurer's horse to an 8.6 total score. Andrea Müller-Kersten and Famaso (Furst Heinrich x Aletto) landed a second place with 8.00. Australian Maree Tomkinson and her gorgeous Diamond Hit mare Diamantina finished third with 7.90. She tied with Katrin Burger aboard Dream Catccher (by Don Cardinale x Rocher d'Or).
Results
5-year old Dressage Horses - Group 1
1. Anja Engelbart - Diamonit - 8.90
2. Jan-Dirk Gießelmann - Flavio K - 8.00
3. Marco Bührig - Delgardo M - 7.80
3. Johannes Westendarp - Di Baggio - 7.80
5. Ann-Christin Wienkamp - Curacao - 7.60
5. Hendrik Lochthowe - Floyd VB - 7.60
7. Miriam Henschke - Amicelli Gold vF - 7.50
7. Christoph Koschel - Belaggio - 7.50
9. Ines Westendarp - De Petite - 7.40
9. Jenny Kitzing - Delight - 7.40
9. Sylke Tietjen - Lorenzio - 7.40
9. Ingrid Klimke - Satino - 7.40
9. Fritz Fleischmann - Wincento - 7.40
9. Miriam Henschke - Wyllow L - 7.40
9. Christoph Koschel - Peppermitnth Petty - 7.40
16. Ingrid Klimke ( - Flipper NRW - 7.20
16. Martin Christensen - Fürstenau- 7.20
16. Tanja Lammers - Laureano - 7.20
19. Sina van Ee - Fürst Malu - 7.10
20. Mirelle van Kemenade-Witlox - Love at First Sight - 6.90
20. Gloria Colomco - Liciano - 6.90
22. Angela Schrandt - Dawsen's Creak - 6.80
22. Alexandria Wilson - Fynch - 6.80
22. Erik Bültjer - La Festa- 6.80
25. Insa Hansen - Forum Drei - 6.70
26. Tassja Janßen - Anastacia - 6.60
5-year old Dressage Horses - Group 2
1. Johannes Westendarp - Well done - 8.20
2. Insa Hansen - King Size - 7.90
3. Henrike Sommer - Rubinio B - 7.80
4. Eva Möller - Reggae Ann - 7.70
5. Ulf Möller Dr. - Donna Weltina - 7.60
5. Kira Wulferding - San Schufro - 7.60
6-year old Dressage Horses
1. Helen Langehanenberg - Fürst Khevenhüller - 8.60
2. Andrea Müller-Kersten - Famaso - 8.00
3. Maree Tomkinson - Diamantina - 7.90
3. Katrin Burger - Dream Catcher - 7.90
5. Katrin Bettenworth - Good-Morning M - 7.80
5. Helen Langehanenberg - Rubin al Asad - 7.80
7. Ingrid Klimke - Dante - 7.60
7. Jenny Kitzing - Dominique - 7.60
9. Insa Hansen - Rossano R - 7.50
10. Katrin Bettenworth - Die Insel - 7.40
10. Katrin Bettenworth - Die Süsse - 7.40
10. Sabine Egbers - For You - 7.40
13. Maria Brundiers - Fürstin Henrietta- 7.30
14. Jan-Dirk Gießelmann - Laokoon B - 7.20
14. Ellen Bodenkamp - Ludwig - 7.20
14. Bianca Kasselmann - Luxor - 7.20
17. Hermann Gerdes - Smile at me - 7.00
18. Christina Pantzar - Freestyle - 6.90
18. Erik Bültjer - Wisdom - 6.90
18. Martin Christensen - Falcone - 6.90
21. Ann-Kathrin Schulte-Varendorff - Luce del Sol - 6.80
21. Johannes Augustin - Rothschild - 6.80
23. Kerstin Mayer - Welcome - 6.50
5-year old Dressage Ponies
1. Anna-Lisa Theile - Pott's Blitz - 7.60
2. Linda Espelage - Gallia S - 7.30
3. Katalin Garrn - Arts - Deitana - 7.20
4. Anna-Lisa Theile - Little Lady - 7.00
5. Jennifer Beckmann - Le Bo - 6.70
6. Alexandra Schultjan - Dragon - 6.50
7. Sabrina Janssen - Tigerlilli - 6.00
6-year old Dressage Ponies
1. Leonie Richter - Carrie WE - 8.50
2. Lisa Kleinbuntemeyer - Top Anthony - 7.80
3. Madeleine Terkhorn - Very nice - 7.00
4. Sabrina Janssen - Tigerlilli - 6.50
5. Florian Tüpker - Der Harlekin B - 6.20