2008 CDI Hagen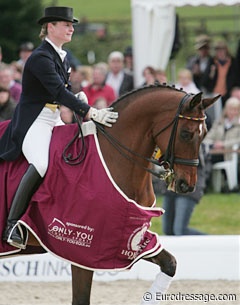 Olympic fever is on in Germany as the first German Olympic selection trial took place at the CDI Hagen. All German Olympic candidates were on the scene showing their best horses. With only three spots available only Isabell Werth is certain of hers.
In the upcoming weeks Nadine Capellmann (on Elvis), Heike Kemmer (on Bonaparte), new comer Matthias Alexander Rath (Sterntaler Unicef) and Monica Theodorescu (Whisper) are currently the top A-listed dressage riders who need to fight for consistent 72% scores if they want to go to Hong Kong.
In Hagen, Isabell Werth and Heike Kemmer proved to be the strongest performers of the show. Werth and Satchmo scored a near world record in the Grand Prix Special and Kemmer won the Kur tour with Bonaparte.
Kemmer shows Bonaparte once in a blue moon. The elegant chestnut has battled with injuries and is only shown for team selection when absolutely necessary. In the kur, he started of quite spookely and a bit tense but then mellowed out and put down a world class performance in which the piaffe and passage were solid.
Nadine Capellmann and Elvis (by Espri). The chestnut gelding used to be quite wonky in the piaffe and single tempi changes but he has become more confirmed and steady. The wow-effect of his extraordinary passage and extensions have been replaced by a less spectacular but much more appreciated confidence and solidity.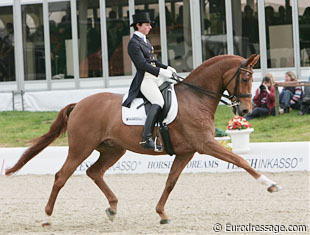 Monica Theodorescu and Whisper (by Welt Hit I) showed classical dressage the way it is and should be. This pair is a pleasure to watch and is gaining strength and balance in the Grand Prix movement with each outing.
Everybody gathered round the show ring to watch Matthias Rath perform on stepmom Ann Kathrin Linsenhoff's Sterntaler (by Sion). Their Grand Prix ride contained a few communication errors in the zig zig and a piaffe showing what some call "The Rusty Twitch" (one leg kicking out high in the piaffe). The Special was much better. As Sterntaler has basic gaits for a 10, he scores ultimate marks in the extensions and walk. Rath did a wonderful test showing nerves of steel; only the contact with the bit was too delicate.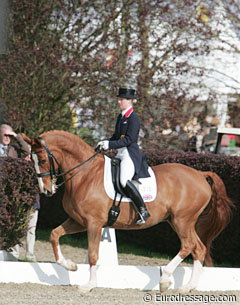 If there is one horse - not ridden by a Dutch or German rider- that could win an individual medal at an Olympics or a World Championships', it would be Laura Bechtolsheimer's Mistral Hojris (by Michellino). Laura was scoring 77% marks in the Grand Prix Special until she made a few mistakes. This horse can challenge Satchmo and Salinero in his performance if the ride stays fault-free. Laura's parents Wilfried and Ursula Bechtolsheimer recently acquired Andretti HRH (by Aarking xx) from Italian Anna Paprocka-Campanella as Laura's second Grand Prix horse (following the retirement of Douglas Dorsey). Not chossing to play it safe and stay home for a long time, Laura opted to throw herself in the ring with this horse straight away and learn as they go. There is much potential in this pair so keep an eye on them!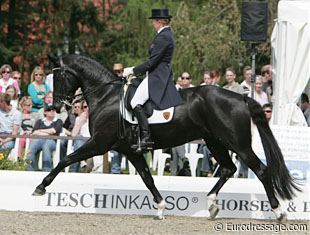 Wow! what a difference four weeks of training can make. At the 2008 World Cup Finals, Susan Duddy's Donna Carrerra was uneven in the passage and lost many points because of it. Now Rozzie Ryan has trained for four weeks with Tineke Bartels in The Netherlands and the difference is huge. The mare is really progressing and rose to the occasion and finished third in the Grand Prix Kur with 70.40%.
All photos copyrighted Astrid Appels/Eurodressage
No reproduction without permission/payment
Back to the 2008 CDI Hagen index