Hanoverian Breeding News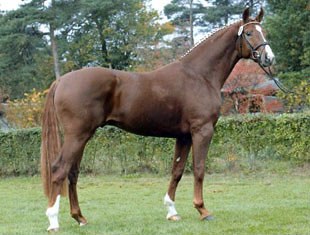 113 voting delegates and various guests followed the Delegate's Conference of the Hanoverian Society's on April 2, 2008. The awards were the first item on the agenda. This year, Heinz Katt from Stade was awarded the Fritz-von-der-Decken-Prize as best stallion raiser.
Ingo Rosenberg from Groß Banratz was honoured with the Freiherr-von-Stenglin-Prize. He is the breeder of the stallion Belafonte (by Belissimo M x Wendekreis - pictured) who won the 11-months Stallion Performance Test for state stud stallions.
In his annual report, combined with a report about "Future focus in lobby and breeding work of the Hanoverian Society", executive director and breeding manager Dr. Werner Schade presented those subjects that were intensively discussed by internal boards before. It is the Hanoverian Society's aim to increase not only the importance of the Stallion Licensing, but of the whole selection system for stallions. There will be no champion stallion among the premium stallions at future stallion licensing events. The premium stallions will be nominated on the day of the Stallion Market, prior to the auction. The conference accepted this decision with applause.
Another aim is to increase the importance of mares for the breeding progress, and in this respect, Dr. Schade presented the newly inaugurated identification system for mare lines. The presentation of the annual statement 2007 revealed that the last auction year was the most successful one: sales with the record sum of approx. 22 million Euro for the exhibitors and an export statistics with now 32 different countries.
And at the end, by unanimous decision, three well deserved persons were appointed as honorary members: the former director of the Celle National State Stud, Dr. Burchard Bade, the outgoing auction manager Rainer Kiel and Fritz Floto who has done an excellent job for the Hanoverian breed in North America. Under standing ovation, Dr. Bade and Rainer Kiel were awarded the Badge of Honour of the Hanoverian Society.
Related Link
Hanoverian Verband Abolishes "Licensing Champion" Title