2008 Japanese Dressage Championships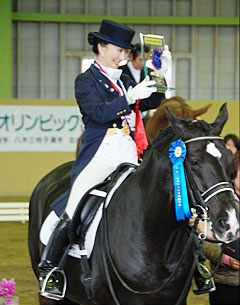 Meiko Yagi and the 16-year old Swedish warmblood stallion Rasputin have won the 2007 Japanese Dressage Championships which were postponed from the autumn of 2007 to March 27 - 30, 2008 because of equine flu.
Yagi and her black stallion by Chapman x Ganesco won the Grand Prix with 63.791% and placed second in the Grand Prix Kur to Music with 67.450%. Her overall score of 131,241 points was the highest and earned her the gold medal and national dressage title. It is Yagi's eleventh Japanese Dressage Champion's title. Previously she won all ten championships between 1994 and 2003.
Yagi, who rides for the Shin Taiso Dressage team, is trained by the British Ferdi Eilberg and spends much of her time riding in Europe. Besides Rasputin, she also competes the PSI horse Dow Jones and her old timer 20-year old Taiso Aurel. Yagi discovered Rasputin in England where the stallion was competed by the Australian Emma Youngman who was training out of Kyra Kyrklund's yard.
The silver medal went to Yuko Kitai aboard her 16-year old German bred gelding Donnerschlag (by Donnerschlag x Eros). She placed second in the Grand Prix with 61.666% and won the kur with 67.700%.
Kitai's other top horse is Rambo 394, a 15-year old gelding with whom she qualified to be on the Japanese team that will compete at the 2008 Olympic Games in Hong Kong. Her other team members are Mieko Yagi and Japan's star rider of the moment Hiroshi Hoketsu on Whisper.
The bronze medal went to Anky van Grunsven's student Toshihiko Kiso on the chestnut Westfalian gelding Esko (by Ehrentusch x Affekt). He placed fourth in the Grand Prix with 61.00% and third in the kur with 64,500%.
Results
Grand Prix
1 Rasputin - Mieko Yagi - 63,791
2 Taiso Aurel - Mieko Yagi - 61,666
3 Donnerschlag - Yuko Kitai - 61,375
4 Esko - Toshihiko Kiso - 61,000
5 Corrado - Toshihiko Kiso - 60,083
6 Chenonceaux - Naomi Asanuma - 58,666
7 Ladalco - Naoki Hitomi - 57,250
8 Nerejeu - Saho Takayama - 54,583
9 Jupiter - Hisui Nomura - 53,250
Grand Prix Kur to Music
1 Donnerschlag - Yuko Kitai - 67,600
2 Rasputin - Mieko Yagi - 67,450
3 Esko - Toshihiko Kiso - 64,500
4 Chenonceaux - Naomi Asanuma - 61,550
5 Ladalco - Naoki Hitomi - 60,650
2008 Japanese Dressage Championships
1 Rasputin - Mieko Yagi - 131,241
2 Donnerschlag - Yuko Kitai - 128,975
3 Esko - Toshihiko Kiso - 125,500
4 Chenonceaux - Naomi Asanuma - 120,216
5 Ladalco - Naoki Hitomi - 117,900
Related Links
Hoketsu Wins Regional Olympic Dressage Team Assessment in Cannes
Japanese Riders at the 2008 CDN Munster