2008 New Zealand Horse of the Year Show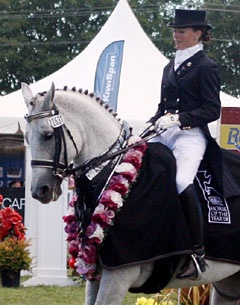 A newcomer to Grand Prix dressage has edged out the seasoned professionals to take the prestigious Horse of the Year 2008 title, as well as a win in the CDI*** FEI Grand Prix Musical Freestyle class in New Zealand.
Angela Fergusson and her elegant grey mare, Monique III, performed relaxed, poised tests, with enough moments of top quality work scoring high enough to keep ahead of the more experienced combinations.
It was an unexpected twist to what was considered a three way competition between three-time defending title holder Bill Noble (Vincent St James), Jody Hartstone and her experienced stallion Landioso and former Olympian Kallista Field and Soda.
Having travelled from the South Island Island to compete at both the Bates NZ Championships and Kelt Capital Horse of the Year Show, it was a fairytale ending for Fergusson.
Consistent calm riding saw the pair place second (62.833) in the CDI*** FEI Grand Prix B test – an absolute thrill as they are both in just their first season at this level. Winner of that class was Jody Hartstone with Landioso (63.208), with Fergusson second,  followed by Charlott Bayliss and All Black II (60.583); Karen Anderson and Komplete Kaos (59.250); Glenbrae Ivanhoe and Sheena Ross (58.792) and Joanna York and Kiteroa Kingston (58.708).
Expected leaders Bill Noble (Vincent St James) and Kallista Field (Soda) were well down the field, after both horses exploded in their tests, reacting to outbursts of cheering and music from the showjumping arena next door.
This Horse of the Year 2008 title was no straightforward win, but involved one of the most dramatic tests in the history of the Horse of the Year Grand Prix Musical Freestyle Class.
 Facing the tough task of beating Noble, Hartstone and Field, all renowned for upping the ante when it comes to musical freestyles, Fergusson entered the arena and began her test with a smooth and polished start.
Just minutes into her test however, her music ground to a halt. Stopped almost immediately by international judge Cara Whitham (Canada), Angela sedately walked Monique around the arena while officials did their best to restart her music.
Despite getting her music restarted, it again stopped in the same place. Angela then had to pass more anxious minutes while a back up copy was found in her truck.
Again the pair walked calmly around the arena, with most spectators looking more stressed than Angela. With her music finally underway, she continued with her test as though the interruption never happened.
It was a remarkably poised performance; with Monique III elegant and happy in her work throughout. When the final score of 69.530 was announced, a huge cheer went up from the crowd, and left following competitors with a tough act to follow.
Both international judges (Cara Whitham and Australian Susan Hoevenaars) gave the test an impressive 72.250 and 72.00 respectively, well ahead of any other test of the day.
Hot contenders for the title Jody Hartstone (Raglan) with her experienced stallion Landioso, and Bill Noble (Waingaro) and his sensitive Vincent St James followed, with both tests showing moments of brilliance but not enough to catch up with the little grey mare.
Winning the Kur is undoubtedly one of the highlights of Angela and Monique III's partnership, but also netted them a $10,000 prize – part of the biggest prize purse ever in an Australasian dressage competition.
With a total prize pool of $30,000 up for grabs, placegetters earned $7500, $4500, $2250, $1500, $1000, $750 and four prizes of $500, which was the entry fee for the competition.
Second place in the CDI*** FEI Grand Prix Musical Freestyle went to Bill Noble and Vincent St James, whose carefully ridden test scored 66.800, followed by Jody Hartstone and Landioso (65.950); Charlott Bayliss and All Black II (63.600); Joanna York and Kiteroa Kingston (62.900) and Karen Anderson and Komplete Kaos (62.650).
Kallista Field scratched her mare Soda from the Kur, after a disappointing and tense test the day before failed to qualify her for the International section of the competition. 
The final line up in the Horse of the Year 2008 overall title was Angela Fergusson (Monique III); Jody Hartstone (Landioso); Charlot Bayliss (All Black II); Bill Noble (Vincent St James); Karen Anderson (Komplete Kaos).
Monique III is an 11yo Trakehner, by Falkensee our of a Polarschnee mare. Fergusson bought her as an unbroken 5yo off her neighbours.
Breeding Info
Angela Fergusson's Monique III is an 11 year old Trakehner mare. She is by Falkensee out of Maritza, a Polarschnee mare and was bred by Heike McLean.
Kallista Field's Soda is a 13 year old New Zealand Sport Horse. He is by Uraeus out of Argentina, an Allgrit mare and is owned by the Silver Fern Trust. Soda was bred by Frack Fitchett.
Karen Anderson's Komplete Kaos (Ammo) is an 11 year old Irish Draft/Thoroughbred. He is by Kingsway Diamond out of Almay, an Imperial Seal mare. He was bred by C Scott.
Joanna York's Kiteroa Kingston (Ping) is a 15 year old Trakehner. He is by Falkensee out of Locomotion, an Auk mare; and was bred by James and Vanessa Hart.
Jody Hartstone's Donnerwind (Mr Wind) is a 16 year old Rhinelander stallion. He is by Donnerschlag out of Furinde, a Voltaire mare. Donnerwind is owned by Jody and the breeder Stal Nijenhuis (Holland).
Bill Noble's BJK Concorde is a 12 year old Australian imported warmblood. He is by Contango II by Fransiska, a Falkland mare. Owned by Pauline Hewetson, he was bred by BJ Kaneto Stud.
Sheena Ross' Glenbrae Ivanhoe is a 13 year old Clydesdale/Throughbred. He is by Stallone out of G Babe, a Better Boy mare, and was bred by Martin Taylor.
Jenny Scotter's JK L'Amour (Lady) is a 16 year old Holsteiner/Thoroughbred. She is by Lucas, out of La Star, a Tiger Trail mare and was bred by JK Stud.
Vanessa Way's Winters Realm (Sam) is a 9 year old Hanoverian. He is by Winterkoenig out of Distel Belle, a Distelfink mare and was bred by JM Hawthorn.
Scott McKenna's Achenbach (Hector) is an 11 year old Hanoverian/Thoroughbred. He is by Anamour out of Regal Right, a War Hawk II mare and was bred by G&W Freeman. 
By Lisa Potter
Related Links
Angela Fergusson wins New Zealand Horse of the Year Title over Experienced Riders
South Africa Wins 2008 Dressage Tri-Nations in New Zealand
A Tight Finish in the Young Riders Competition at the 2008 New Zealand Horse of the Year Show