Swedish Dressage News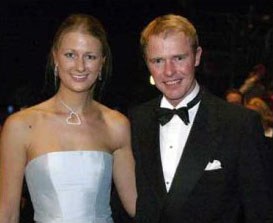 Swedish national dressage champion and 2005 European championship bronze medallist Jan Brink will marry his 28-year old Danish girlfriend Catharina Svensson on 6th October 2007. Swedish Bishop Christina Odenberg will join the couple in wedlock
at the Trollenas castle in Eslov, Sweden. 130 guests are invited to the wedding.
The 46-year old Brink first met Svensson two years ago and last New Year's eve Brink proposed to her on skiing holiday in Verbier, Switzerland. Both will get married for the first time.
"We fit well together. We have the same philosophy on life and we think alike, even though there is an age difference," Brink told the newspaper Norra Skane. "I want to start a family and Catharina and I both want children."
Svensson is originally from Copenhagen, Denmark, and carries dual citizenship (Sweden - Denmark). She is a lawyer by profession but also had a big modelling career. She was the winner of the first Miss Earth competition in 2001, beating several Miss World finallists. She works in Copenhagen but will permanently move to Sweden after the wedding.
Brink already celebrated his bachelor's party in Stockholm, playing hockey with the Swedish NHL team, which includes renowned players Foppa and Mats Sundin.
Photo courtesy: Tidningen Ridsport
Related Links
Swedish dressage star Jan Brink has found new love 
Svensson Wins Miss Earth 2001