What's Happening in the Dressage World?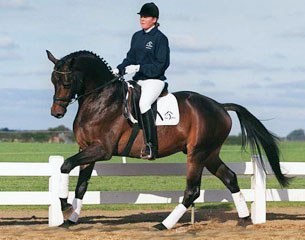 We've received some anxious emails from Denmark expressing worry that the Trakehner stallion Blue Hors Hertug (by Schwadroneur) has been gelded. Hertug has proven to be one of the best inheriting Trakehner sires in Denmark and there was some fear that the dark bay stallion got gelded after his sale to Danish Young Rider Phit Westergaard. A quick email to Susanne Mulbjerg Møller, manager at Blue Hors, set the record straight. Nothing has been chopped off and Hertug is still a stallion.
Blue Hors did confirm some changes in their stallion roster though. Blue HorsSoprano (by Sandro Hit x Contender) has been sold back to Paul Schockemohle. Blue Hors Del Quinto (Del Piero x Akzent II) is no longer standing at stud, but is still in training at Blue Hors.
Swedish dressage star Jan Brink has found new love. After his separation from Minna Telde, Brink was one of the dressage world's most eligible bachelors. But no more! Catharina Svensson is Brink's newest sweet heart and she accompanied him to the Gala Ball of the "Swedish Sportman of the Year" at the Globen in Stockholm. Brink was in the running to become Swedish Sportman of the Year, but was defeated by Tony Rickardsson who holds seven speedway World Championship gold medals.
Swedish magazine Tidningen Ridsport published a photo of a cute Christmas tree decoration. Swedish top jumper rider Malin Baryard discovered a new, original way of decorating her Christmas tree and putting a better use to the ribbons she won in her career. Check out Baryard's tree here
De Hoefslag wrote that Belgian dressage rider Werner van den Brande sold hisKWPN licensed stallion Vic (Jazz x Flemmingh) to Jacques Maree, Tim Coomans and Mr Slier. The dark bay KWPN stallion Vic was bred by Mr. Jansen in Homoet, Belgium, and purchased by Van den Brande after the KWPN licensing. Vic is currently stabled at Jacques Maree's barn in Holland.
Mary Alice Malone of Iron Spring Farm in Coatesville, PA, USA, has purchased yet another Friesian stallion in The Netherlands. Winad 405 ( Pike x Naen) is joining Teade, Goffert, Erik and Heinse at Iron Spring in the States.
Horses of the Dutch reported that the KWPN licensed stallion Candyboy (by Lucky Boy) has been donated to the University of Kentucky by owner Mrs Royer. Candyboy will stand at stud at Kentucky. The Royer family purchased the stallion in 1997 from Mary Alice Malone, who imported Candyboy into the United States. Candyboy has one licensed offspring, Candy Surprise, who has been gelded.
Imke and Tineke Bartels of the Horse Academy in Hooge Mierde, The Netherlands, announced the purchase of a new youngster: Toscana. The 6-year old KWPN bred chestnut mare is by Krack C x Oracle and has competed in a regional Pavo Cup competition, but has done not other showing. She has given birth to two foals (one by Negro, one by Scandic) and two of her embryo's have been inseminated with semen from Scandic and Jazz. Bartels praise the mare for her talent for piaffe and passage and her willingness to work.
Petra Wilm's Gestut Tasdorf in Germany and York Stutteri in Denmark announced their partnership. They will be distributing semen of their partner stations. "The Stallions of the two studs supplement each other in a way, so that breeders can combine the different bloodlines as they like and hereby make use of the full product line," Nick Elsass of York said.