2007 Bundeschampionate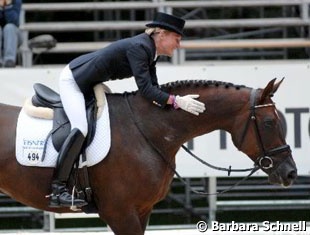 German correspondent Barbara Schnell was at the 2007 Bundeschampionate in Warendorf to capture photos of the most important young horse event of the year. Check out her huge selection of photos.
Helen Langehanenberg knows to impress with lightness and her victory in the 5-year old Dressage Horse division with Fürst Khevenhüller was well-deserved.
Jessica Süss is a young talent who has already been featured here on Eurodressage because her own horse is a Friesian stallion, whom she competes successfully at M and S level. In Warendorf, she won the hearts of the crowds aboard Diamantenbörse, a five-year-old Oldenburg mare owned by her employers, Louisa and Anna Katharina Lüttgen's parents. From the ninth place in the final qualification they marched right through to the bronze medal, and would have done even better, had Jessica not had a slight case of nerves and taken a wrong turn during the final. But her elegant style aboard this light-footed horse was fun to watch, and Christoph Hess found wonderful words of praise -- and regret about the mistake -- for her.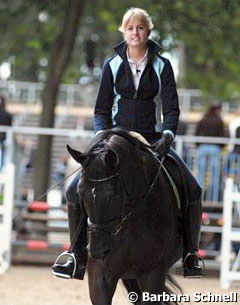 Stephanie Jansen won team gold at the European Championships in Necarne Castle aboard Dornik Double. In the Junior division, she was Rhinish champion in 2004 on a sponsored horse but at the same time bought Pretender, a Hannoverian by Prince Thatch x Weltmeyer. She already made in to the BuCha finals with him last year, but this year the now 19-year-old truly proved that if you have the talent to "make" your own horse, the world doesn't end if you don't make it as a Junior rider at once. Pretender is truly her horse, and the two showed three harmonious and almost flawless tests that were justly rewarded with the silver medal. Jan Nivelle coached both her and Jessica Süss, and he was a very happy man.
Bärbel Föster-Henrich and the Sandro Hit mare Samira won the 6-year old division with record scores. Someone compared Samira's performances at the Bundeschampionat with Dulcia's, and given the overall quality of the German dressage ponies, I thought that's a beautiful compliment that sums it up nicely. You could have heard a pin -- or even a piece of paper -- drop during Bärbel Förster-Henrich's final ride on this gorgeously elastic dancer, and those who were there got the feeling that they were watching dressage history in the making. Let's hope that this horse will find a good home and an equally sensitive rider now!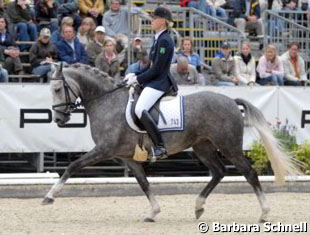 Helen Langehanenberg and Silberaster OLD were champions in the young horse riding class but Silberaster's repeated misbehavior, when someone tried to handle her from the ground, was the talk of the Bundeschampionat. One tends to forget this once the black starts moving, though (see video, top right corner).
Last year's European Pony Team Champion Annabel Frenzen (like Lydia Camp) had five ponies qualified and made it into the respective finals with all five. Christoph Hess complimented her on her talent to adjust to the different ponies and to steer them very skilfully. The palomino is Der Harlekin B. Annabel also had her own cheerleaders' squad.
All photos copyrighted Barbara Schnell 
No Reproduction Allowed without Permission/Payment
Back to the 2007 Bundeschampionate Index