2007 Pan American Games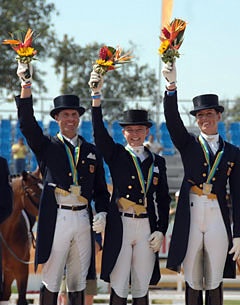 Gold is definitely a color that looks good on the necks of Americans equestrian athletes, and Team USA's dressage squad were the first to have the honor to wear it among the three disciplines invited to the XV Pan American Games in Rio de Janeiro.
The three-member team comprised of Lauren Sammis, Katherine Poulin-Neff and Christopher Hickey finished their combined work to bring home the top honors in the dressage team final on Sunday at Deodoro Stadium and the National Equestrian Center, July 15.
Two Americans entered the dressage arena on Sunday to add to the Saturday score laid down by Lauren Sammis, who stood at first coming into the second day of dressage and final day of the team competition. Thirteen pairings entered the ring this morning, and the American team ended their work with an average score of 68.633%. Canada took the Silver medal (67.250%) and the host country—Brazil—was awarded the Bronze medals on a score of 64.933%.
To add to the excitement, after two rides for both the Americans and the Canadians, there was only a two-tenths difference in the total scores deciding the team medal.
Poulin-Neff was the first of the Americans to enter, and aboard Brilliant Too, she scored a 66.550%, very respectable for a horse that had yet to experience the atmosphere of such a large event.
"I felt good about the test," she said. "There was one little mistake at the end—a flying change. I corrected it, but overall he [Brilliant Too] felt good. I thought he would be more nervous in there…but, overall, I was really happy."
"I'll be more relaxed next time," she said, referring to the upcoming Individual finals. Overall, the pairing finished the Individual 1st Qualifier in sixth place.
Then, the Gold medal came down to the scores for Hickey and Canadian Andrea Bresee aboard Raffles.
Hickey and Regent wrapped up the American effort and scored a 69.150%, which sat them in second place overall. Bresee's 65.250% secured the Silver for her country.
"I made a few little mistakes, and part of those were rider error…going for it a little too much," said Hickey. "But, I'm very happy with our ending score, and to be able to represent the U.S. team. We've had a wonderful time here in Brazil."
Hickey's mount, Regent, was fresh entering the ring today, and the rider was cautious not to over-warm-up the horse. However, some gutsy chances were taken during the test and a resulting few mistakes were made.
"I was a little overzealous trying to make him more expressive, and I could have ridden him a little calmer," said Hickey. "That is one place where I rode too much, and tried to make him higher in the neck and little more forward over the ground with more expression. It didn't work today." Regardless, his efforts were enough to secure the medal.
Sammis spoke for the team when she shared her enthusiasm for the competition and her appreciation. "The way that this show has been run has been fantastic, and the reception from the people has been fantastic," she said. "We are so very grateful to be here as a team."
Team USA chef d'equipe Klaus Balkenhol was obviously pleased.
"Considering that all of these riders are riding in a large international event for the first time, each and every one did a fantastic job," said Balkenhol. "I am thrilled that these riders were able to get the Gold medal. I also want to thank to everyone—the grooms and the others who worked together…that's really important."
Looking toward the Individual competition, Sammis said that she was ready and was fortunate to be competing on her mount, Sagacious HF (an eight-year-old Dutch Warmblood gelding owned by Hyperion Farm, Inc.). "I have a wonderful horse, and I would take a bad day on that horse any day," she said, thrilled with her Team Gold medal.
Poulin-Neff said that she showed come nerves in her Pan American debut, as did her mount, the 11-year-old Dutch Warmblood/Thoroughbred cross gelding owned by Sharon Poulin. However, this was to be expected on such a stage.
"I'm happy with the way it went," she said. "We'll be less nervous here tomorrow. Being here, overall, has been really great, and we have such a wonderful support group here helping us…It has been absolutely wonderful."
"Tomorrow, I'll be a bit bolder, and the Intermediaire I is our better test," said Poulin-Neff.
Hickey, too, shared this appreciation, specifically for all those that have helped him get to this level in his career.
"I'd like to start by saying that we are very thankful that at the USEF [United States Equestrian Federation] we have a very strong organizing body that makes the decision and makes all the arrangements, for everything at the USET Foundation. From our team leader Gil Merrick and Jim Wolf, down to the people in the office, and our team vet and, of course, Klaus, our chef," he said.
Hickey looked forward to Monday's first Individual challenge. "Tomorrow, he and I will have been in that arena once…so I will still ride boldly, but with a little bit more care."
He took an opportunity to joke about the rest of competition, which now has the riders competing as individuals. "Now, the gloves come off!" he said. "We will stay play nice, but we are here to play for medals!"
As for Sammis, she plans for more of what she has already shown the dressage fans at Deodoro. "We'll stay true to the training that I have," she said. "I've been very consistent, so it's the same game plan. Keep smiling and keep on track."
The two-day Individual finals begin on Monday with the Intermediaire I and wraps up on Wednesday with the Intermediaire freestyle.
Text by Brian Sosby
Scores - 2007 Pan American Games