2007 CDIO Aachen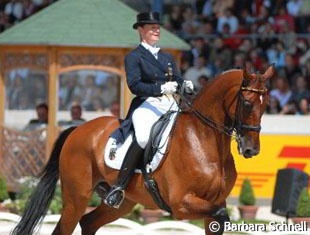 Isabell Werth's new freestyle routine titled "March With Me" was intended to be emotional and it certainly was: "It was really sensational, it was fantastic," said the 37-year-old rider enthusiastically. Werth remained unbeaten in all three competitions of the CDIO tour.
She claimed victory in the Deutsche Bank Prize at the CHIO Aachen 2007 with a score of 82.35 percent.
"Things couldn't have gone better for us," explained the double World Champion of the 2006 FEI World Equestrian Games in Aachen. "I wanted to introduce emotions into my new freestyle music, which contains elements from Vangelis sung by Montserrat Caballe. I seem to have succeeded in doing so," the most successful dressage rider in the world commented with joy.
Her victory in the Freestyle meant that she also secured first place in the Dressage Grand Prix of Aachen. She additionally won the Piaff Prize in memoriam of Liselott Schindling – this special prize is awarded to the dressage competitor who has achieved the best placings during the show.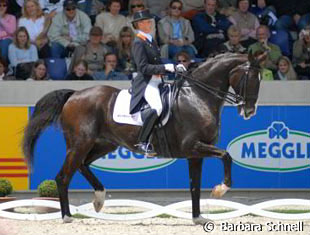 Second place went to the Dutch rider, Anky van Grunsven, who received 81.45 percent for her Olympic and World Championships freestyle routine. "In fact I wanted to present our new freestyle routine here in Aachen, but unfortunately it wasn't ready in time," reported the 38-year-old who gave birth to her second child in March. Many of the spectators obviously considered her score to be too high, since they started whistling when it was announced. The pair showed mistakes in the extended trot and in the flying changes and also didn't stand still at the halt and the salute.
A thoroughly delighted Jan Brink finished third. "Everything fitted perfectly to the music, was very flowing and Briar was extremely fresh and motivated," was how the Swedish rider commentated his ride, which brought him a score of 77.55 percent. Brink has contested two Olympic Games with his 16-year-old stallion and they also won the Grand Prix of Aachen in 2005. The pair came eighth at the FEI World Equestrian Games in Aachen last year. His music contains songs from the singer Helena Paparizou, who won the Eurovision Song Contest two years ago.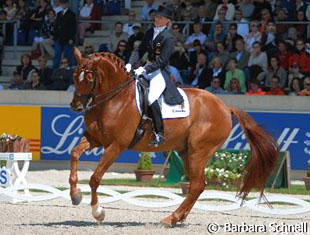 Nadine Capellmann, one of the crowd's favourites, was disappointed. Her World Champion team gold horse, Elvis VA, shook his head several times at the start of the freestyle. "An insect must have got into his ear. I thought, oh no, where's this going to end, but after a while he luckily managed to calm down again. He was tremendous in the warm-up, it was such a shame," the Würselen rider explained. With a score of 74.5 percent she finished sixth behind Ellen Schulten-Baumer and Donatha (75.55 percent).
The Swiss rider Silvia Iklé took fourth place with her 13-year-old Sinclair son, Salieri (76.95). The 58-year-old took part at the 2004 Olympic Games and came sixth in the Grand Prix Spéciale and eleventh in the Freestyle at the World Championships in 2006 with Salieri, who is considered to be a difficult horse to ride.
"Salieri is now at an age when he is reaching his climax. His performances are more and more consistent and he never lets me down," the Swiss rider remarked.
Read the Statements following the Kur
Photos copyrighted: Barbara Schnell
Back to the 2007 CDIO Aachen index