2007 Bundeschampionate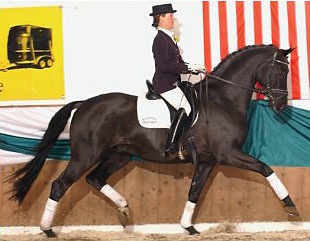 The Bundeschampionate qualifiers continue after a break from selection trials last weekend. Danone II and Satchmo H were the winners at the qualifier at Petra Wilm's Gestut Tasdorf in Schleswig-Holstein, on July 1-3, 2007.
In the 5-year old division, young rider Theresa Wahler scored the highest mark aboard the licensed Hanoverian stallion Danone II (by De Niro x Weltmeyer). The pair received 8.12 and beat stable mate Nicole Kochskämper on the Trakehner stallion Le Rouge (by Pret a Porter x Tycoon). They got 8.00 from the judges and ranked ahead of Annette Weiss on the Hanoverian gelding Lillebror (by Likoto xx x Warkant).
The 6-year old division was won by Sonja Marie Ellerbrock aboard the Hanoverian Satchmo H (by Sandro Hit x Galvano). They topped the leader board with 8.56, while Esther Maruhn placed second. Aboard Marillion, Maruhn scored a lovely 8.10 and qualified for the finals in Warendorf.
Photo courtesy: Klosterhof Medingen
Results
5-year old Dressage Horses
1. Theresa Wahler - Danone II - 8.12
2. Nicole Kochskamper - Le Rouge - 8.00
3. Annette Weiss - Lillebror - 7.78
4. Eva Oetjens - Simpson - 7.72 45,00 -
5. Herbert Boger - Wesley - 7.70 42,00
6. Shereen Wurzer - Rubin Royale - 7.48
7. Martina Sternberg - Wild Flower B - 7.26
8. Christine von Oldershausen - Lexani - 7.10
9. Oliver Polster - Royal Mirage - 7.08
10. Kristina Heuer - Dolantino - 7.06
11. Oliver Polster - Dr.Watson - 7.04
12. Daniela Groenke - Farina - 7.00
12. Franziska Jahnke - Balinio - 7.00
14. Nina Sachau - Don Heinrich - 6.92
15. Karin Luhrs - San Marino - 6.9
16. Marlies Pfaue - Seven Up - 6.7
17. Meike Friemel - Lenny Kravitz - 6.62
18. Danny Bartel - Drosselbart - 6.60
19. Ute Opitz - Billie Jean - 6.32
20. Esther Voss - Dernier Crie - 6.18
21. Oliver Polster - Lavados - 5.90
22. Marco Buhrig - Argentinia - 5.60
6-year old Dressage Horses
1. Ellerbrock,Sonja Marie - Satchmo H - 8.56
2. Maruhn,Esther - Marillion - 8.10
3. Winter-Polac,Karin - Elderman - 7.66
4. Hannöver-Sternberg,Martina - Womenizer - 7.32
5. Ellerbrock,Sonja Marie - Don Ferro - 7.26
6. Beckmann-Meßfeldt,Cathrin - Florentino - 6.96
7. Wunnerlich,Sandra Ann - Donington Park - 6.92
8. Hübner,Sarah Kay - Robin Hood - 6.86
9. Peckholz,Mareike - Don Jonson - 6.80
Back to the 2007 Bundeschampionate Index