2007 Bundeschampionate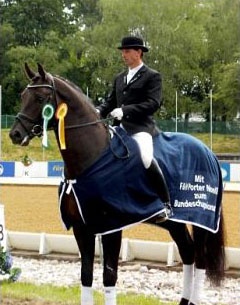 The 5-year old Ferrero Kiss and the 6-year old Don Argentinus were the winners of the Bavarian Bundeschampionate qualifier which took place at the Pferd International CDI Munich show on May 17 - 20, 2007.
In the 5-year old Dressage Horse division, Uwe Schwanz won aboard the Baden Wurttemberger branded Ferrero Kiss. Schwanz and the liver chestnut licensed stallion by French Kiss x Don Gregory x Rubinstein scored 8.42 in the qualifier class and topped the leader board. Walter Wadenspanner and Franziskus, a Bavarian Furst Heinrich x Rohdiamant offspring, placed second with 8.32
The 6-year old Dressage horses division was won by Ralf Kornprobst aboard Don Argentinus, a Bavarian stallion by Davignon x Argentinus. The pair scored 8.32, took the lead and beat second placed Friederike Schulze-Wallner aboard the Trakehner Licensing champion In Flagranti (by Buddenbrock x Kennedy) who scored 8.22.
Photo courtesy: BLS
Results
5-year old Dressage Horses - Warm Up Test
1. Uwe Schwanz - Ferrero Kiss - 8.14
2. Tanja Berghays - Feliciano 8.10
3. Rudolf Widmann - Arena - 8.04
4. Gerdi Rakelbusch - Wonapalai - 7.90
5. Andrea Krauspe - Fantastic - 7.84
6. Matthias Kempkes - Montepiano II - 7.76
7. Uwe Schwanz - Stahlsmühles Alour - 7.72
8. Renate Voglsang - Fratello - 7.68
9. Cornelia Herbert - San Balou - 7.44
10. Christine Dettweiler - Wienett - 7.42
11. Christina Jorck Jorckston - Dallas - 7.34
12. Oliver Luze - Shania - 7.02
13. Tatjana Schneider - Lorelei - 6.96
5-year old Dressage Horses - BuCha Qualifier
1. Uwe Schwanz - Ferrero Kiss - 8.42
2. Walter Wadenspanner - Franziskus - 8.32
3. Sune Hansen - Die Eine - 8.02
3. Gerdi Rakelbusch - Wonapalai - 8.02
5. Andrea Krauspe - Fantastic - 7.84
6. Tanja Berghaus - Feliciano - 7.66
6. Uwe Schwanz - Alour - 7.66
8. Christine Dettweiler - Wienett - 7.64
9. Renate Voglsang - Fratello - 7.52
10. Oliver Luze - Shania - 7.50
11. Angela Bader - Duane - 7.38
12. Rudolf Widmann - Arena - 7.36
13. Christina Jorck Jorckston - Dallas - 7.14
14. Matthias Kempkes - Montepiano - 7.12
15. Victoria Michalke - Dance On - 6.94
16. Cornelia Herbert - San Balou - 6.90
17. Wold Dieter Bottcher - Mercedes - 6.40
6-year old Dressage Horses - Warm Up Test
1. Ralf Kornprobst - Don Argentinus - 8.38
2. Sebastian Heinze - Ronny - 8.0
2. Susanne Lebek - Landiamo - 8.0
4. Friederike Schulz Wallner - In Flagranti - 7.92
5. Alexandra Kofler - Pebble Beach - 7.90
6. Maximilian Stechele - Donnerstag - 7.72
7. Susanne Peter - Queeny - 7.64
8. Holga Finken - Dance of the Lords - 7.46
9. Bettina Frauscher - Basic Instinct - 7.40
10. Constanze Rugheimer - Louis - 7.00
11. Carolin Fleischer - Winnie the Pooh - 6.60
12. Magdalena Moser - Feeling - 6.32
6-year old Dressage Horses - BuCha Qualifier
1. Ralf Kornprobst - Don Argentinus - 8.32
2. Friederike Schulz Wallner - In Flagranti - 8.22
3. Ralf Kornprobst - Montepiano - 8.12
4. Susanne Peter - Queeny - 7.84
5. Alexandra Kofler - Pebble Beach - 7.78
6. Susanne Lebek - Landiamo - 7.72
7. Constanze Rugheimer - Louis - 7.44
8. Carolin Fleischer - Winnie the Pooh - 7.38
9. Sebastian Heinze - Ronny - 7.24
10. Maximilian Stechele - Donnerstag - 7.20
11. Bettina Frauscher - Basic Instinct - 7.10