2007 World Cup Finals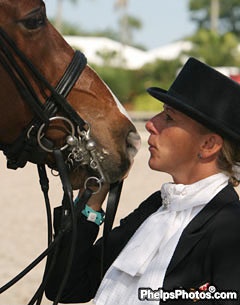 "The rules of our sport are clear and need to be respected" dixit Evi Strasser. Strasser, the owner and operator of Good Tymes Stables in Sainte-Adèle and the owner of Quantum Tyme, is extremely pleased that the Arbitrator from the Sports Dispute Resolution Centre of Canada
has decided to allow her appeal and to declare her the winner of the Canadian League Final Grand prix, allowing her to compete in the World Cup Finals in Las Vegas at the end of April.
Ms. Strasser declared: "I am thrilled that this incident is over and I look forward to the World Cup Finals. I am really happy that the FEI gave Jacqueline Brooks a bye to the World Cup Finals. I wish her all the best and hope we can remain friends. All I want is to make sure that the rules of our sport are clear and that they are followed by all riders. It is a question of fairness."
The Arbitrator determined that all competitors in the Canadian Finals, as required by the rules, should have submitted a minimum of two scores from major Canadian competition, in order to qualify, unless there were extra-ordinary, temporary unforeseen circumstances.
In his final ruling on the exemption granted to M. Brooks to allow her to compete in the Canadian Finals, the Arbitrator, Stewart McInnes, wrote: "In my opinion, there were no circumstances which could be properly deemed to fall within the exempting criteria."
According to Strasser, it is very important for competitors to know that the rules are the same for everyone and that they will be respected. It is also important for the viability of the sport that the regional competitions, such as the ones in Ottawa and Blainville, be regarded by competitors as serious events that are an integral part of the qualifying process for international competition.
As she prepares for the World Cup Finals, Evi Strasser is looking forward to the competition and is happy to put the controversy behind her.
Photo copyrighted: Astrid Appels/Phelpsphotos.com
Back to the 2007 World Cup Index