2007 World Cup Finals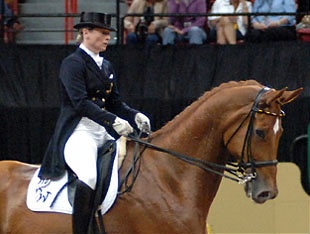 Isabell Werth of Germany took top honors in the Grand Prix, riding Warum Nicht FRH, in front of a large and appreciative crowd at the Thomas & Mack center in Las Vegas on opening day of the 2007 World Cup Finals.
"It was very emotional," said the six-time Olympic medalist of the standing ovation they received. "It's great when you see and feel so many emotions at a competition."
Werth and "Hannes", as he is affectionately called, were placed first by all five judges for their performance receiving an impressive score of 74.792, but they had some problems during their test.
"The first part of the test was really, really good, but then he saw the camera and I had to get him to concentrate again," said Werth of her 11-year-old Hanoverian gelding. "He kept looking around for something else and so we made little mistakes." 1996 Olympic Team Bronze medalist Steffen Peters of the United States said the roar of the crowd actually helped Floriano to their second place score of 72.875.
"I would like to say a big thank you to the crowd, it made a big difference."
Kyra Kyrkland of Finland who was third with 71.708, said her horse Max was ready for his Las Vegas debut. "Max said 17,000 people came to look at me so I have to look my best."
Imke Schellekens-Bartels of The Netherlands also received a score of 71.708 riding Sunrise, but they were placed fourth as a result of the tie-breaker.
The top 12 finishers from Thursday's Grand Prix advance to Saturday evening's Grand Prix Freestyle that will determine this year's Dressage World Cup Champion. All riders will start Saturday evening even as scores from Thursday do not carry forward. Saturday's starting order will be inverse order of finish from Thursday's Grand Prix.
Dressage competition continues on Friday with the FEI Grand Prix Freestyle B – Final for those horses who did not qualify for Saturday's Freestyle, and the Invitational FEI Grand Prix for US horses and riders.  
Back to the 2007 World Cup Index