2007 World Cup Finals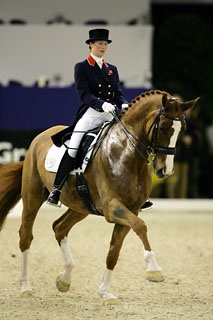 Britain's Laura Bechtolsheimer and Douglas Dorsey will not be traveling to the World Cup Finals, even if they are to receive a Wild Card. "I won't be going to the final even if I am offered a place or a wild card as I now have to concentrate on studying for my finals this summer
," said the Bristol university student of philosophy and politics.
Bechtolsheimer produced another impressive result, finishing seventh with 74.1% in the final FEI World Cup qualifier of the season at 's-Hertogenbosch CDI-W in Holland, 22-25 March 2007. Only last month, the combination scored their personal best, 76.35%, for fourth place in the World Cup qualifier at Neumünster in Germany.
"I couldn't have hoped for a higher placing and we beat all those we could – it was a pretty hot competition," said Laura, who is 12th in the final standings after all 10 qualifiers.
The Western League qualificants for the Finals are: Imke Schellekens-Bartels, Isabell Werth, Andreas Helgstrand, Kyra Kyrklund, Edward Gal, Tinne Vilhelmson, Laurens van Lieren, Jan Brink, Ellen Schulten Baumer and Silvia Iklé.
Iklé and Schulten-Baumer have already withdrawn from competing at the finals. Kyrklund is still uncertain about their participation. Brink has confirmed to the Swedish Equestrian Federation that he'll be going to Las Vegas.
Reserve riders to get a wild card are Louise Nathorst, Laura Bechtolsheimer, Marlies van Baalen, Catharine Haddad and Wayne Channon. Bechtolsheimer has declined her option for a wild card and Marlies van Baalen will only be entitled to ride if another Dutch rider withdraws as only three riders per country are entitled to compete in the Finals.
American Haddad is in a difficult position to get a wild card. As she is an American competing in the European League finals, she will have to get a berth in the Finals via a wild card. The request for a wild card had to be declared by the American Equestrian Federation on Monday March 26, 2007, but her situation is complicated by the fact that the Americans are holding their U.S. League Finals only this weekend. The group of American representatives at the 2007 World Cup Finals will only be announced by the end of next weekend.
Bechtolsheimer also had success in the CDI tour with Mistral Hojris, who was competing in only his third international competition, his first competition since the 2006 World Games. They won the grand prix with 71.583%, but dropped down to third in the special after the atmosphere overwhelmed the 12-year-old Danish gelding.
Laura said: "He tore muscles in his back and had nearly nine months off work after the worlds. We did interval training for a good few months and this has helped him come back stronger than before. He has only had six weeks of grand prix work. He is so keen to please and always tries to give you 120 per cent. The judges all gave me extremely positive comments; they seem to think he is one of the best horses in the world."
Photos copyrighted:  Leanjo de Koster