British Dressage News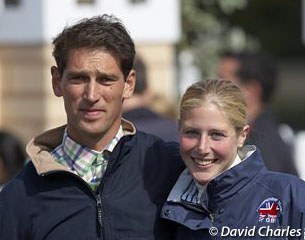 German dressage rider and trainer Markus Gribbe has parted ways with his employer Dr. Wilfried Bechtolsheimer. Gribbe left Bechtolsheimer's yard on Monday March 12, 2007. He was head rider of Bechtolsheimer's horses
and trained British WEG Team member Laura Bechtolsheimer.
"Markus had a very positive influence on Laura's riding career, which we are very grateful for. However, we decided that it was time to part company and move on," Wilfried Bechtolsheimer told Eurodressage.
In July 2002, Markus Gribbe left Stable Meggle in Wasserburg, Germany, to take up a head position at Bechtolsheimer's yard in Ampney St Peter, Cirencester, Great Britain. He trained and competed several of Bechtolsheimer's top horses, including Wild Rose (aka Weltspitze), Don Davidoff and Polarion, and was always at Laura's side at international competitions in Europe. Laura became the 2005 British Dressage Champion and won the B-finals of the 2006 World Cup Finals. She was a member of the British Team at the 2006 World Equestrian Games.
"It was our mutual goal to bring Laura from Junior Riders level to Grand Prix and we have accomplished that," Markus Gribbe told Eurodressage. "She has now confirmed herself on the international scene and is a force to be reckoned with at international events. I'm grateful to have had the opportunity to work with Laura, the Bechtolsheimer family and their outstanding horses."
For Gribbe the time has come to move on and find new challenges in life. "I have received several interesting offers from England and Germany. My family and I really enjoy living in England so we're considering renting some stalls at a good yard and train riders and horses from there. We will look at our options the next four weeks and make a decision then," Gribbe added.
The Bechtolheimer's are currently not looking for a replacement trainer. "For the time being I will help Laura with her training and Ferdi Eilberg, the British team trainer, will support us when necessary," Wilfried explained.
Photo copyrighted: David Charles
Related Links
Gribbe Leaves Stall Meggle to Work For Bechstolheimer
Laura Bechtolsheimer, 2005 British Dressage Champion
Laura B makes B Final her own at 2006 World Cup Finals